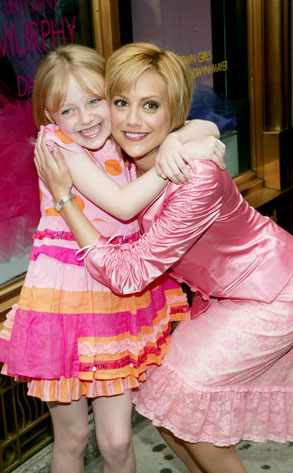 Evan Agostini/Getty Images
Brittany Murphy and Dakota Fanning may never escape to Coney Island together again, but that doesn't stop the younger of the two from sharing warm fuzzies about their time together.
"I got to know Brittany when we made the film Uptown Girls," the New Moon cutie said in a statement. "We became great friends despite the fact we were many years apart in age. Brittany had such a warm child-like spirit that drew people to her. With her goes a piece of my heart and I will miss her terribly. I know how strong Brittany's love was for her family and my heart goes out to all of them, especially her mother Sharon. I love you Brittany."
A certain Ugly Betty fave got his start working with the "child-like" twosome in the same flick.
"RIP Britt, worked with her on my first prof gig. So sweet. :(," Michael Urie writes on Twitter.
Of course, Uptown Girls (and guys) aren't Murphy's only costars to say (or tweet) nice things about her.