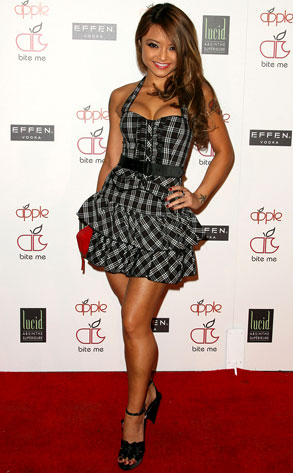 Jordan Strauss/Getty Images
Tila Tequila isn't just taking a shot at marriage.
The reality television icon, who recently declared her love and engagement for heiress Casey Johnson, is headed for motherhood as well.
Thankfully, the child is not actually Tila's.
"BIG ANNOUNCEMENT: I am going to become a SURROGATE MOTHER for my brother & his Wife," she declared on Twitter over the weekend. "That is my xmas present to them. I'm pregnant!!!!"
In typical Tila fashion, the MTV maven attempted to garner a little excitement for the reveal with a tease.
"I love my brother too," she wrote in all caps after claiming she'll be buying her parents a new home for the holidays. "Can u guess what I am going to give him for Christmas?? This will change his life & mine forever!!!!! It's huge! Guess."
Of course, this is Tequila, and is best taken with several grains of salt (a little lime doesn't hurt either).