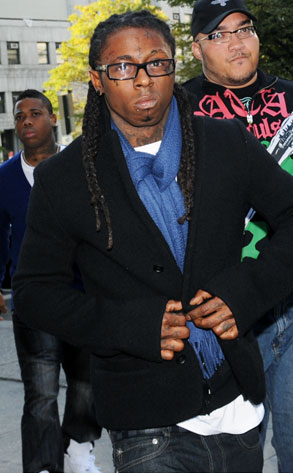 AP Photo/Louis Lanzano
Some guys have all the luck—at least for now.
Fresh off a concert in Hidalgo, rapper Lil Wayne and 11 of his crew members were detained on suspicion of marijuana possession by the Texas Border Patrol. The band passed through a mandatory checkpoint late Friday afternoon when officials reportedly found the illegal drug on two of the megastar's tour buses.
While Wayne and his crew were held for questioning, Border Patrol spokesman Joe Trevino told E! News that the marijuana was not found on a particular individual, and that all parties were very cooperative.
On Saturday morning, the rep confirmed that charges were not brought against the hip-hop artist or his contemporaries. "He was not charged by Border Patrol. He was referred to the Sheriff's office," says Trevino. "I'm not sure what happened—there has to be enough evidence to charge them, maybe there wasn't."
Lil Wayne, whose real name is Dwayne Carter, is currently awaiting his February sentencing for felony weapons possession where he will receive jail time up to a year.