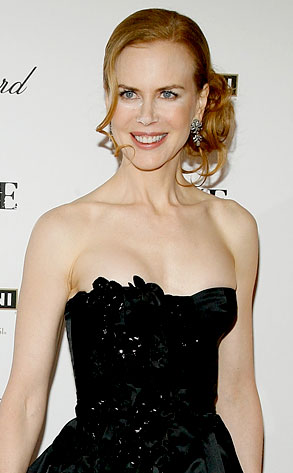 Joe Kohen/Getty Images for Martini
Dear Ted:
Was that really make-up on Nicole Kidman's nose? I realize it takes a lot of powder to cover up all that shiny plastic, but yikes! Who will she fire over this? Love ya,
—Lynn, Milford, CT
Dear All Powdered Up:
Plastic what? You mean her perpetually frozen forehead? Regardless, I think everything Nic covered up with Tom all those years is clearly having a residual effect.
Dear Ted:
Excuse me, did you put any good news in your Robert Pattinson and Emilie De Ravin thread? I for one don't need to be reminded that Rob and Kristen Stewart have active and engaging professional lives that they're obligated to attend to, and some personal ties outside of being attached at the hip, but when you do things like leave us hanging on the "good news" you start a firestorm on your boards. Can you make it a little clearer for your readers what the good news is supposed to be? Are Robsten doing well? (Enough ambiguity, your lack of words is starting to speak loud and clear.)
—Sheesh
Dear Calm Down:
Duh, the good news is that Rob gets to actually act in this one and he's damn good, too! Not just anguished facial expressions like in Twilight.
Dear Ted:
As you have said many times, the children of celebrities did not sign on for the job. Leave them alone! Whatever one might think of Jennifer Garner and Ben Affleck, stalking any child is completely unacceptable. At least an arrest has been made and safety assured for now.
—Bicho