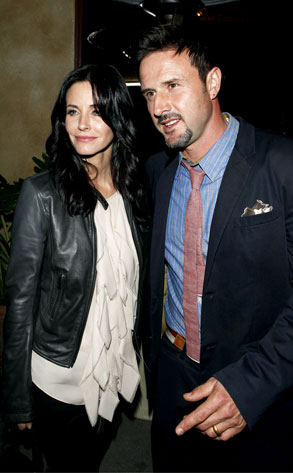 Jean Baptiste Lacroix/Getty Images
No, they're not adopting from overseas. Instead, Courteney Cox and David Arquette are following in Brad and Angie's philanthropic footsteps and using their star power to promote a humanitarian organization, Save Darfur.
David designed a special-edition T-shirt to be sold at his Venice store, Propr, with benefits going to the war-torn African country.
He arrived at the event before his wife to talk about his efforts and who he looks up to.
"I admire President Obama and Michelle," David said. "I think they're incredible. George Clooney was really one of the first people to shine a light on this. Bono does amazing work...Brad and Angelina. Everyone does really great stuff."
David, who's a dad to Coco, also talked about how his 5-year-old daughter is learning about charity.
"I teach her a lot," David said. "She comes with me and helps when I go to a pantry [soup kitchen], and she's aware of it, just like my parents went and made me aware of certain things. You just have to teach through example."
Once Courteney showed up, she made sure her hubby was red carpet ready before they took photos together...