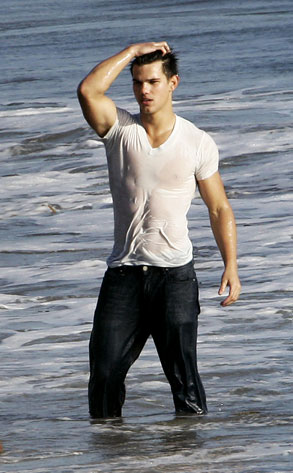 RADCLIFFE/bauergriffinonline.com
If this won't help you keep your New Year's resolution, nothing will.
Taylor Lautner—he of the bulging biceps and washboard abs that were flaunted throughout New Moon to a dizzying degree—may actually be a certified personal trainer.
Sure, he's still only 17 years old and the report comes from the National Enquirer, but he could totally inspire us to click off that television and head to the gym.
"His self-esteem shot through the roof when he bulked up for The Twilight Saga: New Moon and he wants other people to experience that feeling," a source for the tab said. "He wants to open up his own workout center one day."
Our favorite wolf supposedly forked over $200 for an online course and finished in late November.
We're totally ready for Taylor to give us our reps!