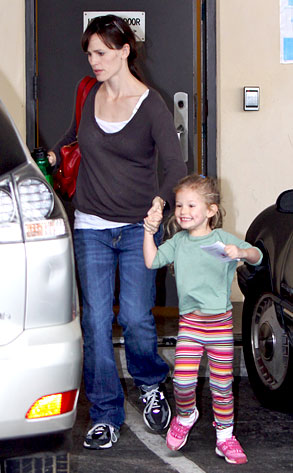 nationalphotogroup.com
It's not just kids that need to be wary of strangers loitering outside their school. So do their parents—particularly when they're movie stars.
Yesterday morning, as Jennifer Garner dropped off her daughter, police picked up her long alleged stalker, Steven Burky.
He was arrested for violating a permanent restraining order Garner obtained against him in November of last year (issued after Garner told a judge he had been following her around the country since 2002). Cops found him creeping around an alley near Violet Affleck's Santa Monica nursery school, a typical paparazzi hangout.
But to be clear, Burky is not a paparazzo. He is an obsessed fan who used to author a blog entitled Satanic Panic, which once asked, "Are multitudes of adults resorting to human sacrifices and then repressing this information from fear of Christ?"
You know, that old gem.
Burky, who last year was kept on a 5150 psychiatric hold, is currently being held on $150,000 bail.