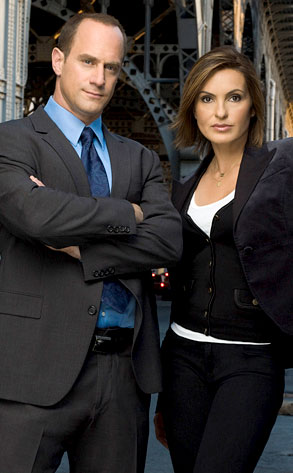 NBC Photo: Justin Stephens
Fret not, tubers. Law & Order: SVU's sexy sex-crimes avengers aren't going anywhere yet, but after last summer's contract-negotiation waiting game, we're still nervous about the fate of our favorite detective series, should the duo decide to call it quits after the 11th season wraps.
When we asked show runner Neal Baer if SVU would continue on without its stars Mariska Hargitay and Christopher Meloni, he told us, "I don't know, it's a good question because we've never tested that. What's weird is that I was looking at the show titles Wednesday night, and it was like, 'Oh my God, everybody's back together again from when I first came on in year two!' It's a very unusual situation. I can't think of another show where that's happened."
OK, that wasn't quite the definitive answer we were hoping for, but Neal did share some things that point to a promising future for SVU, including the possibility of a buzzworthy Benson-Stabler hookup, a maybe-return to the coveted 10 p.m. time slot and, oh yeah, Sayid from Lost coming by to shoot someone...