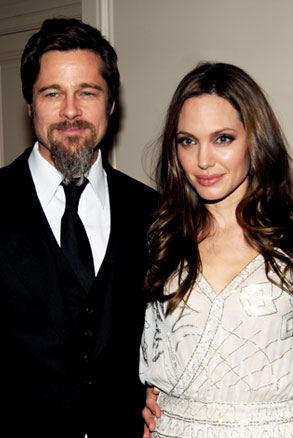 Kevin Mazur/ Getty Images
We may have a naughty ticking clock here at the A.T., counting down to when we think Brangelina will call it quits, but that's not happening anytime soon.
Either way, the superstar couple managed to keep all eyes on them as they attended the UNICEF Snowflake Ball honoring producer Jerry Weintraub last night at the Beverly Wilshire Hotel here in Los Angeles.
Angelina Jolie, stunning in a slightly embellished cream gown (really, Ange, way to bring it) was accompanied by life partner Brad Pitt, who was looking a little worse for wear.
So how was the couple interacting? 'Cause, you know, according to the tabs, Brad's thisclose to grabbing the kids and running...