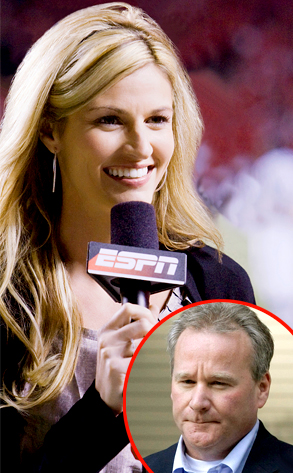 ESPN; AP Photo/Charles Rex Arbogast
Finally, a moment worth taping for Erin Andrews.
The man accused of surreptitiously shooting nude footage of the camera-friendly ESPN reporter in her Nashville hotel room will plead guilty to interstate stalking for repeatedly harassing her.
Michael David Barrett originally entered a not guilty plea, but has since decided to cut a deal, according to documents filed today in U.S. District Court in Los Angeles.
The 47-year-old Illinois native could face up to five years in prison and a $250,000 fine.
While Barrett was caught after allegedly trying to peddle his Nasvhille tape to TMZ, federal authorities suspected him of trailing Andrews to at least three hotels in different states and modifying the peepholes on the doors of her rooms in order to get a glimpse.