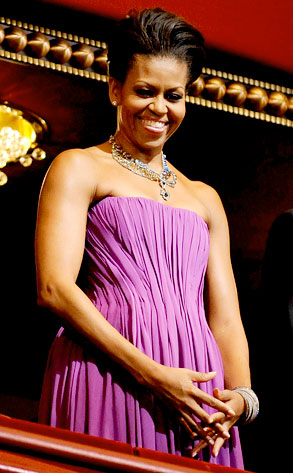 REUTERS/Jonathan Ernst
Love her or hate her, revere or loathe her style, Michelle Obama's story is a compelling one.
And that's why Barbara Walter's picked the first lady as the most fascinating person of 2009, a choice she revealed tonight on her annual ABC special.
Obama, whose commander-in-chief hubby topped Walters' list last year, bested (in more ways than one) a motley gallery of people that included the most controversial music artists of the moment (thanks to, ooh, sex) Lady Gaga and Adam Lambert; Daily Show punching bags Sarah Palin and Glen Beck; reality-TV hero/pariah Kate Gosselin; and Michael Jackson's three children.
"First lady Michelle Obama is shaping up to be more than the sum of her parts," Walters began, referring to Obama's famously buff biceps.
"My personal routine hasn't changed much in the past 11 years," Obama said when Walters asked if she felt pressured to maintain those arms. "Some of that was, in all honesty, a little sort of revenge because I'm married to a man who's worked out all his life. No matter how busy he is, he finds the time to work out."
Obviously revenge is a dish best served toned.