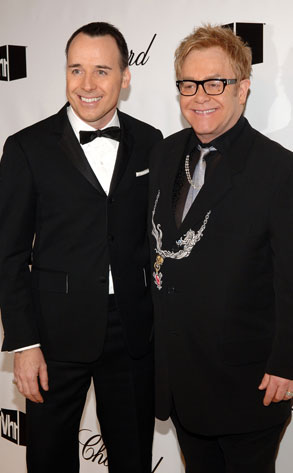 Jamie McCarthy/WireImage.com
Elton John is working on one heckuva sequel to The Captain and the Kid.
The pop icon may have been rejected in his bid to adopt a 14-month-old HIV-infected Ukrainian boy and bring him back to Britain, but he still plans to support the Tiny Dancer who stole his heart.
Sir Elton's longtime partner, David Furnish, tells BBC Radio that he and the 62-year-old John—who were forbidden to take custody of the child because Ukrainian law requires parents to be married (John and Furnish are in a civil union)—plan to provide financial assistance to the youngster, whose name is Lev, as well as his younger brother. That includes "making sure that they have the best health care, education and family options available to them," says Furnish.