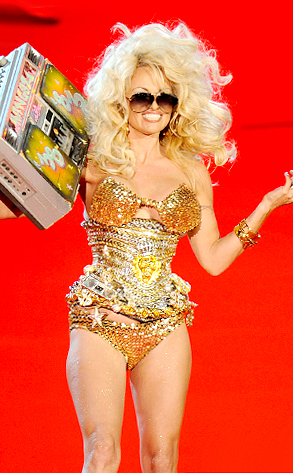 EPA/ZUMAPRESS.com
Pamela Anderson's body has always been rockin', but who knew she was ready to rock for real?!
According to the New York Post, the Baywatch beauty is launching a pop music career with clothing designer Richie Rich, who has released a few records of his own. The first single is called "High" but the fashionisto insists it's about couture, not drugs.
And that Pam's actual singing will be kept to a minimum.
"We are recording a pop single together," he told the newspaper. "Pam says she wants to sing, but nothing too difficult, so she's just going to sing the word 'high' over and over."
This isn't their first collaboration. The buxom babe often appears in Richie Rich's fashion shows as his muse and the pair recently launched an animal-friendly, organic clothing line called A*Muse, which may make its New York Fashion Week debut in February.