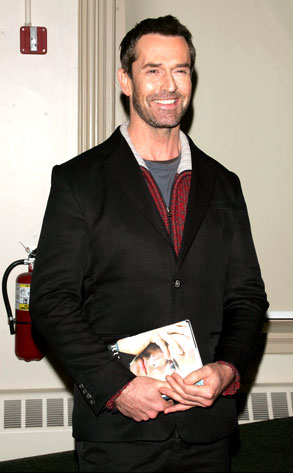 Jim Spellman/WireImage.com
Dear Ted:
I was reading an article where Rupert Everett basically said that gay actors can either come out of the closet or have a successful career, but not both. Do you agree?
—Amanda F., NYC
Dear Pessimistic Rupert:
Depends how you judge successful career. Neil Patrick Harris is a well-respected actor, but will he ever be up for the blockbuster superhero guy-gets-girl parts? Probably not. If you want to be a heartthrob, you're not gonna come out of the closet. But, I think how Ellen DeGeneres is showing how to become a major celebrity powerhouse and still have your lesbian wife, too, is a lesson not to be ignored. Can guys do it, too? Most of 'em don't have the balls to even try, sorry to say.
Dear Ted:
You've caused a little uproar with some of your readers and posters by putting Rob in the "bachelors list," especially next to the likes of George Clooney (no dig at him) and John Mayer. You know you've always sort of led Robsten believers down a certain, let's just say, extra committed Robsten path. Do you have anything to say about all of this? I'm giving you a chance to cryptically set so many people straight. Take it! Love ya, Ted.
—Hereya
Dear Take a Chill Pill:
The only thing I lead readers to believe is that Robsten is very much together...and happily together at that. If there's no ring on it, then you're still a bachelor!
Dear Ted:
Reading your column, it sounds like Jennifer Aniston has some skeletons, errr, secrets in her closet. I've always been a big Friends fan, so I loved the reported "best friendship" between Jen and Courteney Cox. Is Jen just darker, sneakier, and dirtier in her relationships with men, or is the Courteney/Jen BFF ship not what meets the eye? I know Jen is Courteney's daughter's godmother.
—Willa
Dear No Longer Friends:
These two are still good friends, why wouldn't they be? Oh wait, maybe Jen's sappy annoying stories about her love life drives Court crazy. Nah, they get equal bitch time.
Dear Ted:
If you actually answered me I'd s--t in my pants. What on earth are you trying to pull? Rob Pattinson a confirmed bachelor? I will say this—you cleverly know how to keep everybody's panties in a knot. You haven't been following Robsten for 8 months like for bulldog for nothing. Those two are at least engaged. I'd bet my mother's brokerage acct on it and that is saying something.
—OJ
Dear Panties Bunched!:
Jeez, Brad friggin' Pitt was on that list, too, and he's in a committed relationship.
Dear Ted:
Have you ever thought that Summit withholding a Breaking Dawn announcement is more marketing driven? They have New Moon in the bank, and they have the fans and media waiting with bated breath for the next "official" Twi news. Could they just be dangling a little longer to drag out attention and press, and in doing so, hype the whole thing even more? Or do you really think they still have a lot of kinks to work out?
—Chanel