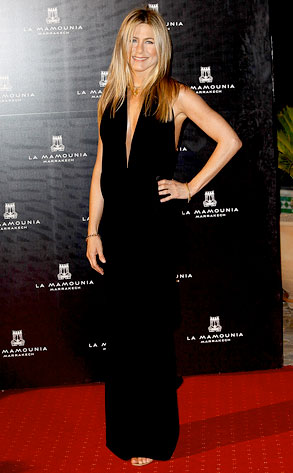 Fizcairn/Getty Images
Dear Ted:
Why does it seem that Jennifer Aniston dates "men" with confusion issues (I'm sure you know what I'm talking about, Ted)? Is it that she's not sure men are her "cup of tea," or has she given up on love all together and just doesn't care? She seems smart. She's beautiful, but at the same time, she seems to doubt herself. I guess when your husband leaves you for the town slut for the whole world to see, it can do something to your self-esteem, but he deserves to be happy, and something tells me these "men" just don't do it for her. What's your take?
—ANC
Dear Gyllenspoon Syndrome:
Jen is very much into men, but she's also into her margaritas, friends, tans, cigs and career way more. I think the whole family thing just ain't her schtick. Obviously. It's just that "America's Sweetheart" can't say that. Or can she? Do it, babe!
Dear Ted:
Am I the only one who sees this Jake Gyllenhaal-Reese Witherspoon breakup thing as a way to get some publicity? Doesn't he have a whole slew of movies coming out soon? Maybe I'm too cynical for a 19-year-old; it just seems a little suspicious to me. Hit me back, you sexy bitch!
—Caleb
Dear Opposites Attract:
Actually, practically the only reason they were together was along the lines of publicity. No, breaking up was not part of Reese's plan. This one went awry. What, did Reese get jealous Natalie Portman was sharing Jake's secret recipes for distressed hair?
Dear Ted:
After slamming Nicole Kidman for her domestic violence crusading in light of her body guard's violent antics, how do you feel about the view that the Twilight franchise, particularly New Moon, depicts an unhealthy, abusive relationship as the "romantic ideal?"
—Amber