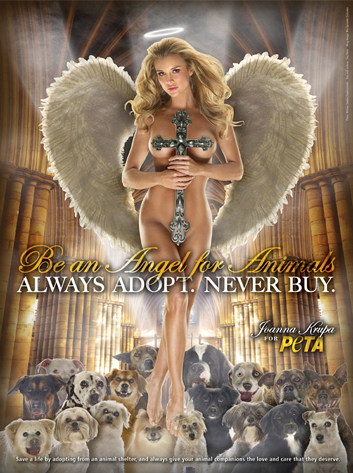 PETA
What's wrong with this picture?
Lots, according to the Catholic League, which has voiced its opposition to PETA's latest shock-'em-into-action ad campaign, which features a naked Joanna Krupa sporting nothing but angel wings and holding a strategically placed crucifix, while exhorting us to "be an angel for animals" by adopting, rather than buying, new pets.
Plus, there's another ad in which a topless Krupa holds her dog, Rugby, in her arms, a rosary dangling from her right hand.
More improper usage of a sacred Christian symbol, claims the league, which most recently took issue with an episode of Curb Your Enthusiasm, in which Larry's urinary backsplash hits a painting of Jesus.
But Krupa is a Catholic herself, and she objects to this holier-than-thou stance.