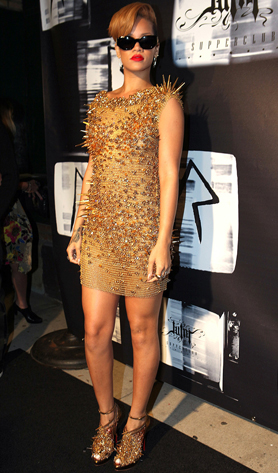 Shareif Ziyadat/FilmMagic/Getty Images
In the wake of her drama with Chris Brown, Rihanna appears to be doing quite well.
Her newly released album, Rated R, has megabuzz, her single is a hit, and she's been smiling through interviews and appearances.
But life, the 21-year-old tells E!'s own Ryan Seacrest, is far from normal.
"Normal? I wouldn't say normal," she says. "It's definitely more intense. Every day is another curveball, but now I know how to handle it. Every time you get put in a situation, it somehow makes you stronger."
Unfortunately, Brown isn't the only man who's contributed to the Barbados-born babe's admitted trust issues.
"I haven't heard from my father in over a year. I try though, I've reached out to him," she says. "He turned his back on me and went to the media and got paid to talk about stuff, like all these interviews after the situation in February."
As for future romantic relationships—and even someday walking down the aisle—nothing's out of the question.