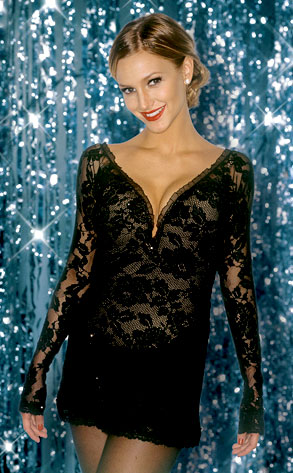 Courtesy: Len Prince/Chicago
Really, who needs a show that's going to evict you after just 12 episodes?
Certainly not Ashlee Simpson-Wentz!
The former inhabitant of Melrose Place moved into her new home on Broadway officially last night, making her debut as Roxie Hart in Chicago at the Ambassador Theater.
Of course, the star's unfamiliar territory was made a bit more cozy given that she performed the role in London's West End. And her star-studded support system in the audience didn't hurt either.
Husband Pete Wentz and sister Jessica Simpson were sitting with papa Joe and mom Tina with figurative bells on.
"I've looked forward to this moment since I watched her own the stage in London," Jessica tweeted. (Obviously, the long-running musical isn't as "crappy" as a certain CW show). "Roxie was all Heart! Watching her up on that grandiose stage made me the proudest sister in the world."
Pete was downright nervous for his baby-mama's big moment.
"When I get nervous I jitterbug and dance inside my head," he tweeted. "It doesn't matter what you're, saying it just sounds like the Black Eyed Peas to me."