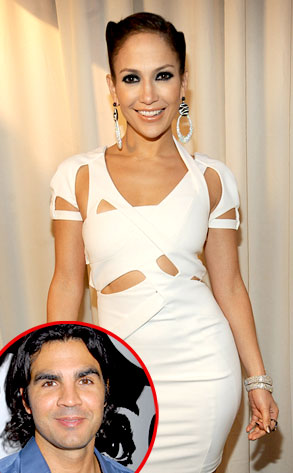 Kevin Mazur/AMA 2009/Getty Images; Barry King/Getty Images
Now it's Ojani Noa's turn to get spanked. Figuratively speaking.
Jennifer Lopez's first ex-husband, he of the maybe-maybe not J.Lo-starring sex tape, has been barred from releasing any more "confidential information" about his former missus, thanks to a protective order Lopez was granted yesterday.
The majority of which, incidentally, was heavily amended in black marker—a detail that Noa's team failed to find the charm in.
"We are still trying to fully decipher Judge [James] Chalfant's exact order, which was written in Sharpie pen," Noa's agent, Ed Meyer told E! News. Meyer was also barred from blabbing in the order.
"I guess due to the California budget cuts, as I have no other clue why a Superior Court judge would write and sign a court order with a Sharpie pen."
Jeez, everyone's a critic.