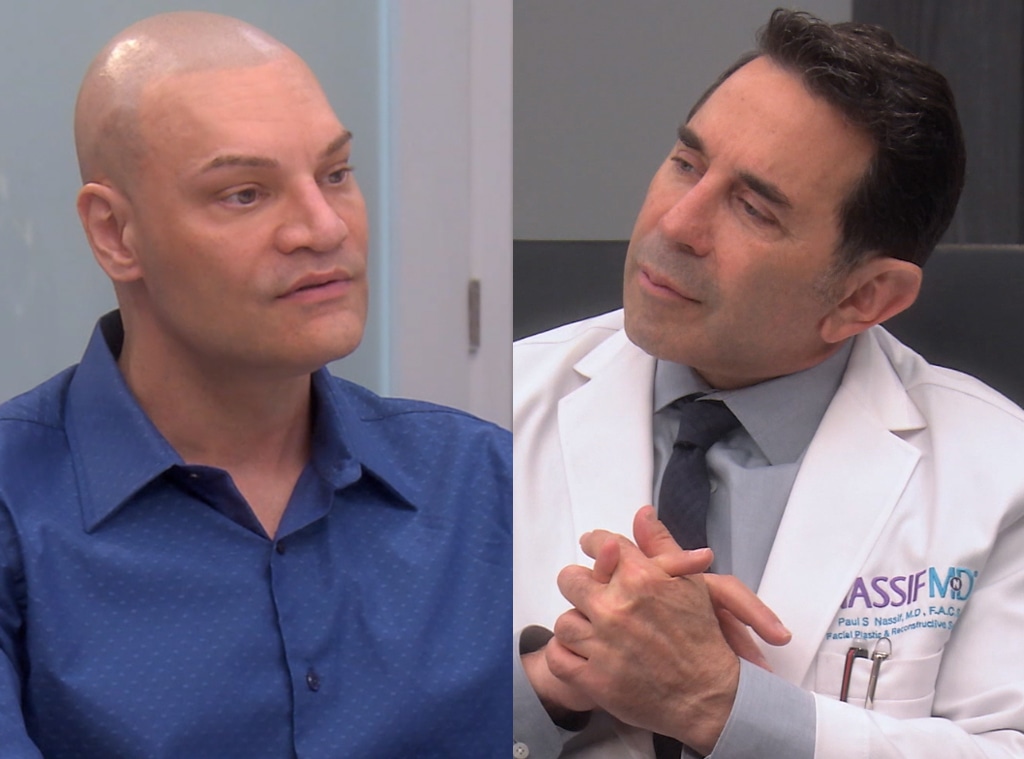 Alexa, play "Eye of the Tiger" by Survivor.
On tonight's all-new Botched, Dr. Paul Nassif was tasked with reconstructing professional boxer Chris' nose after multiple breaks and surgeries. Per the retired athlete, over the course of 33 years, he had his nose broken "approximately 22 times."
"I had three surgeries to fix it, but as my boxing progressed and as my nose got broken more, it just got worse and worse over the years," Chris explained in a confessional. "There was no breathing! I had no breathing because I had no nose, my nose was flat."
After reconstructive surgeries left him with a "pancake nose," Chris began to struggle with his mental health. As a result, he threw himself into boxing and checked out of his marriage.
"I thought, if I couldn't fix my nose, the only thing I have are these and I buried myself into boxing," he added. "I forgot that I was a husband, I destroyed my marriage."
Thus, Chris hoped that Dr. Nassif could not only restore his breathing, but his happiness as well. Now retired from boxing, Chris declared it was time to fix his nose "for good."
Was Dr. Nassif able to give the Golden Gloves winner everything he hoped for?
During a consultation with Dr. Nassif and Dr. Terry Dubrow, Chris detailed his case file, which included a septoplasty, a terrible post-operative infection and more.
"Having nasal surgery while you're an active boxer is like breast surgery, a lift right before you have kids," Dr. Nassif remarked to the Botched camera. "What's the point?"
Watch:
Toot Butt, Big Boobs and a Pikachu What?
In the exam room, the famed plastic surgeon revealed that the new patient needed a "complete septal reconstruction." Thankfully, Dr. Nassif had a game plan for Chris' nose, which featured an open rhinoplasty and harvested rib.
In the operating room, Nassif and his team found rock-like scar tissue inside Chris' nose. To make matters worse, the surgery was almost derailed as the surgical team struggled to find any septum.
Despite these small hiccups, Nassif successfully completed the surgery, giving Chris a "firm" and "straighter" nose.
"Overall, Chris should have a date by next week," the popular surgeon quipped.
Weeks after surgery, a newly confident Chris stepped out and displayed his new nose for the world to see.
"Before my surgery, I had a rubber nose, I had trouble breathing and I was self-conscious about going out with my friends," Chris concluded. "But now, thanks to Dr. Nassif, my nose is both sculpted and supported."
For all of this and more, including Dr. Dubrow's work on the "breasts of Frankenstein," be sure to watch the all-new episode here!
Find all of your favorite episodes of Botched on E! in the UK
TV keeps getting better. How you watch it does too. With Xfinity X1 you can catch up on all of your favorite shows. Just say your favorite show into the Voice Remote for easy access.