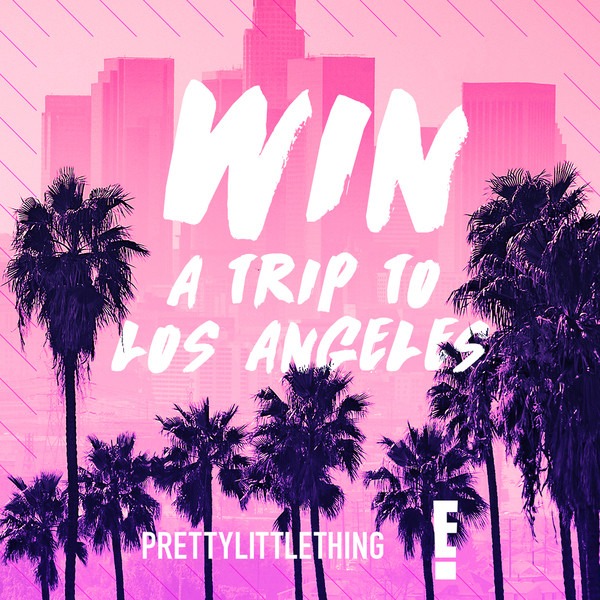 Privacy notice
Any entrant data collected will be used for the purpose of administering the promotion and contacting the winner to notify them of the prize and we will pass details on to third parties including The Promotions Factory, NBCU, Universal and PrettyLittleThing in order to select the winner and deliver the prize. This will include transferring the data outside of the EEA to the US. If you are unsuccessful, your data will be retained until the 3rd January 2020 and if you are the winner, your data will be retained until the 9th February 2020. For more information about how Sky and the parties listed above use any personal data, please see each party's respective Privacy Policy on each of their websites.
Terms & Conditions – PLT and E! Fly Away Promotion
Eligibility
1.     This PLT and E! Fly Away Promotion (the Promotion) is open to residents of the UK and Republic of Ireland, aged 21 years or over. Proof of age may be required.  Employees (or family members of employees) of Prettylittlething.com Limited, NBCU/E! or any Sky plc company ("Sky"), companies associated with the promotion and all affiliates of such companies, are excluded from entry into the promotion.
Two separate promotions will be open to residents of France  and Australia, aged 21 years or over relating to a similar Promotion and will be governed by separate terms and conditions applicable to their territory. If you are a resident of France or Australia and wish to enter into the separate promotions, you must read and follow the terms and conditions applicable to your territory in order to validly enter the promotion.
Promotional Period
2.     This promotion opens at 00:01 on 06/12/19 and closes at midnight on 20/12/19 (the "Promotional Period").
Entry Requirements
3.     Online entry required. To enter, the entrant must:
a.     "like" the E! Instagram post advertising the Promotion on @eonlineuk Instagram account; and
b.     Visit and "follow" E! Instagram account (@eonlineuk) (https://www.instagram.com/eonlineuk/) and visit and "follow" PrettyLittleThing Instagram account (@prettylittlething) (https://www.instagram.com/prettylittlething);
c.     "tag" one (1) companion in the caption on the E! Instagram post advertising the Promotion (who must also be aged 21 or over) you'd like to share this experience with.
4.     Entries sent in through agents, third parties or multiple accounts will be disqualified. Entries that contain any sexual, offensive, inappropriate or defamatory content will be disqualified. Late, incomplete or otherwise ineligible entries will also be disqualified. Promotion of Entries through third party websites other than Eonline UK Instagram handle, or Facebook adsmanager are prohibited. The Promoter reserves the right to disqualify any winning entry if qualifying criteria are not met and reserves the right to select a replacement winning entry for the promotion.
Winner Selection and notification
5.     One (1) winner will be selected at random by Sky from all eligible entries received during the Promotional Period. The winner will be notified by E! direct /private message via the Instagram account used to submit their entry, by no later than 23/12/19.
6.     The winner will be required to provide the following information to the Promoter (or third party it nominates to issue and manage the prize) for themselves and their companion within 48 hours of being informed that they've won: full name, age, phone number, email address, passport information and residential address (to book the flights and hotel). If the winner cannot be contacted within a reasonable time period or has not responded with the required information within 24 hours of being contacted, or is not able or available to accept the prize for any reason which is beyond the Promoter's reasonable control, then the Promoter reserves the right to award the prize to another entrant.
Prizes
7.     The one (1) winner will receive the following prize:
a.     Two (2) economy flights to Los Angeles (LA) (including baggage) for one (1) winner and one (1) companion;
b.     Three (3) night's stay in LA (minimum 3 stars hotel) for the one (1) winner and companion;
c.      Airport transfer in LA from the airport to the hotel and from the hotel to the airport for the one (1) winner and companion;
d.     One (1)  PrettyLittleThing voucher up to the value of £500 for the one (1) winner;
e.     A tour of the PLT LA Showroom for the one (1) winner and companion;
f.      Two (2) tickets to the Universal VIP Studios Tour in Universal City, CA for the one (1) winner and companion.
8.     The Promotor shall have the sole discretion for arranging flights and accommodation.
9.     The Prize is subject to availability.
10.  For the avoidance of doubt, the Prize does not include travel whilst in LA or personal expenditure or incidental costs other than where expressly provided above.
11.  It is the responsibility of the winner and companion to obtain necessary travel insurance, service charges, or any other service or item not specifically described above.
12.  Orders using the Pretty Little Thing voucher must be placed prior to the trip. Enter code at checkout to redeem. Voucher code must be used in one single transaction. Cannot be used against delivery charges. Code valid until 23:59 GMT 19/01/2020 and cannot be used in conjunction with any other promotion, student discount or voucher. No price adjustments on previous purchases. Voucher cannot be exchanged for cash amount. Vouchers Items may be returned once per order and winner will be provided with a new voucher to the retail value of the returned items.
PrettyLittleThing reserves the right to cancel or alter any element of the prize at any time.
13.  The winner and their companion must be available to travel between 23rd January 2020 and 26th January 2020 to claim the prize. If flights are cancelled, flights will be re-booked for the next available flight or weekend. All food and drink will need to be bought at the prize winners' expense.
14.  Universal Studios Tour will be held on Friday 24th January 2020.
15.  The prize winner and their companion are responsible for their own passport and visa arrangements. The Promotor accepts no responsibility for any denied visas and the prize cannot be exchanged.
16.  The one (1) winner (and companion) acknowledge that they may be accompanied by one (1) winner (and companion) from the promotion open to French residents and with one (1) winner (and companion) from the promotion open to Australian residents when redeeming elements of the Prize.
17.  There will be a total of one (1) winners announced in the Promotion in the UK.
Winner Publicity
18.  Any entrant data collected will be used for the purpose of administering the promotion and contacting the winner to notify them of the prize and we may pass winners' details  on to third parties appointed by the promoter, for the sole purpose of  delivering the prize.
19.  The use of any personal data by the Promoter shall be in accordance with the Promoter's Privacy Policy which can be found on the Promoters website.
20.  The use of any personal data by PrettyLittleThing shall be in accordance with PrettyLittleThing's Privacy Policy which can be found https://www.prettylittlething.fr/politique-de-confidentialite.
21.  By entering this promotion, if you are the winner, you agree that the Promoter may make your full name and county available, and may use your full name, county and photograph for post-event publicity purposes without additional remuneration.
General
22.  This promotion is in no way sponsored, endorsed or administered by, or associated with Instagram or Facebook.  Instagram or Facebook are in no way responsible for any aspect of this promotion. The promoter does not accept any responsibility for network, computer, hardware or software failures of any kind, which may restrict or delay the sending or receipt of your entry. Proof of sending is not proof of receipt.
23.  There is no cash alternative to the prize and unless agreed otherwise in writing the prize is non-refundable and non-transferable.
24.  The Promoter reserves the right to substitute the prize for a prize of equivalent or greater monetary value if this is necessary for reasons beyond its control.
25.  Except in the case of death or personal injury arising from its negligence or in respect of fraud and so far as is permitted by law, the Promoter and its associated companies and agents exclude responsibility and all liabilities arising from participation in the promotion, enjoyment of the prize, and/or any postponement, cancellation, delay or changes to the prize beyond the Promoter's control; and for any act or default of any third party supplier.      
26.  The terms and conditions of any other third party supplier will also apply to the prize where applicable. If there is a conflict between third party terms and conditions and these terms and conditions, these shall take precedence.
27.  The Promoter will not be liable for any prize that does not reach the winner for reasons beyond the Promoter's reasonable control.
28.  The Promoter's decision is final and binding in all respects on all entrants.  No correspondence will be entered into. Entries that do not comply in full with these entry terms and conditions will be disqualified.
29.  The Promoter may refuse or disqualify any entry (including winning entries) if there are reasonable grounds to believe there has been a breach of these terms and conditions or if the entrant concerned or anyone authorised by the entrant to deal with their entry, acts in a way towards the Promoter, other entrants or Sky staff which the Promoter reasonably considers to be inappropriate, unlawful or offensive. If the winning entry is disqualified the Promoter reserves the right to award the prize to another entrant.  
30.  Entrants will be deemed to have accepted these terms and conditions and agreed to be bound by them when entering this promotion.
31.  This promotion, and any dispute or claim arising out of or in connection with it, shall be governed by and construed in accordance with English law.  You irrevocably agree that the courts of England and Wales shall have exclusive jurisdiction to settle any dispute or claim that arises out of or in connection with this promotion.
Promoter: Sky UK Limited, Grant Way, Isleworth, Middlesex TW7 5QD.