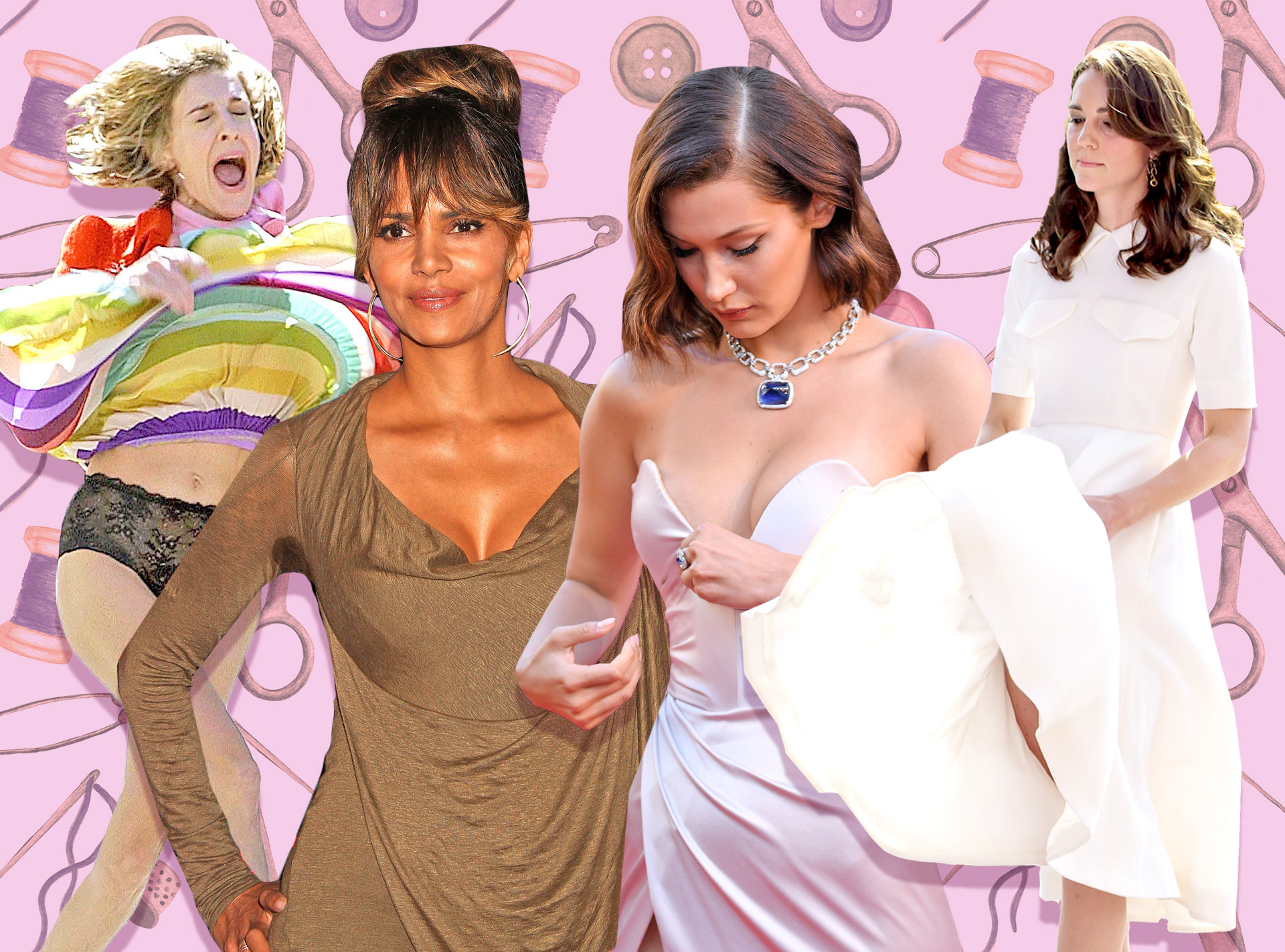 Getty Images; Shutterstock; Melissa Herwitt/E! Illustration
We love these products, and we hope you do too. E! has affiliate relationships, so we may get a small share of the revenue from your purchases. Items are sold by the retailer, not E!.
When temperatures rise, we all tend to wear less the hotter it gets. But fun in the sun comes with a whole set of fashion faux pas possibilities. 
By now, we all know about fashion tape and bra-strap wranglers. But there are more fashion fixes we've found. As the weather gets hot 'n' steamy, we've come to rely on some of these solutions to summer style's more embarrassing predicaments.
So don't be shy, take a look. Your sartorial secrets are safe with us!
Feel Fresh Bamboo & Cotton Bra Liners
It's not the most pleasant summer-fashion topic, but under-boob bra rash and chafing are no joke. These cotton and bamboo bra liners are soft and silky to the touch while being tough on sweat and wicking moisture away from the skin to prevent discomfort.
The Ultimate Nipple Covers
On the flip side, who wants to go out in a bra if you don't have to? These reusable adhesive nipple covers will hold up your girls, dim your headlights, and come in a variety of skin tones.
Carpe No-Sweat Face
Carpe No Sweat Face is a great solution to help control the face perspiration, including upper lip sweat, forehead sweat and sweaty scalp. Apply alone or as a primer before makeup, sunscreen or other products.
Formé Shoe Shapers
Nothing is worse than breaking in new shoes. We exaggerate, but you know what we mean: blisters, heel slipping, numb toes, etc. Well, say hello to the Ferrari of shoe shapers: Formé. The brand's patented seven-fold technology, is clinically proven to relieve footwear pain and give you a controlled, customizable fit. And Formé's wings prevent wrinkles and creasing so shoes stay looking new and chic.
Dress Downs Garment Weights
The walkway to our office was pretty much a wind tunnel, so women holding down their skirts attempting to avoid their own Marilyn Monroe moment was a common sight here. We're guessing you've run into this sitch too. These dress weights are reusable, discreet and safe on all materials.
Bandelettes Anti-Chafing Thigh Bands
Joseche Underarm Sweat Pads
We saved the worst? most embarrassing? best for last. Let's face it, whether you perspire or just glow, we all sweat. These adhesive underarm pads block the dreaded pit stains and come in a pack of 80.