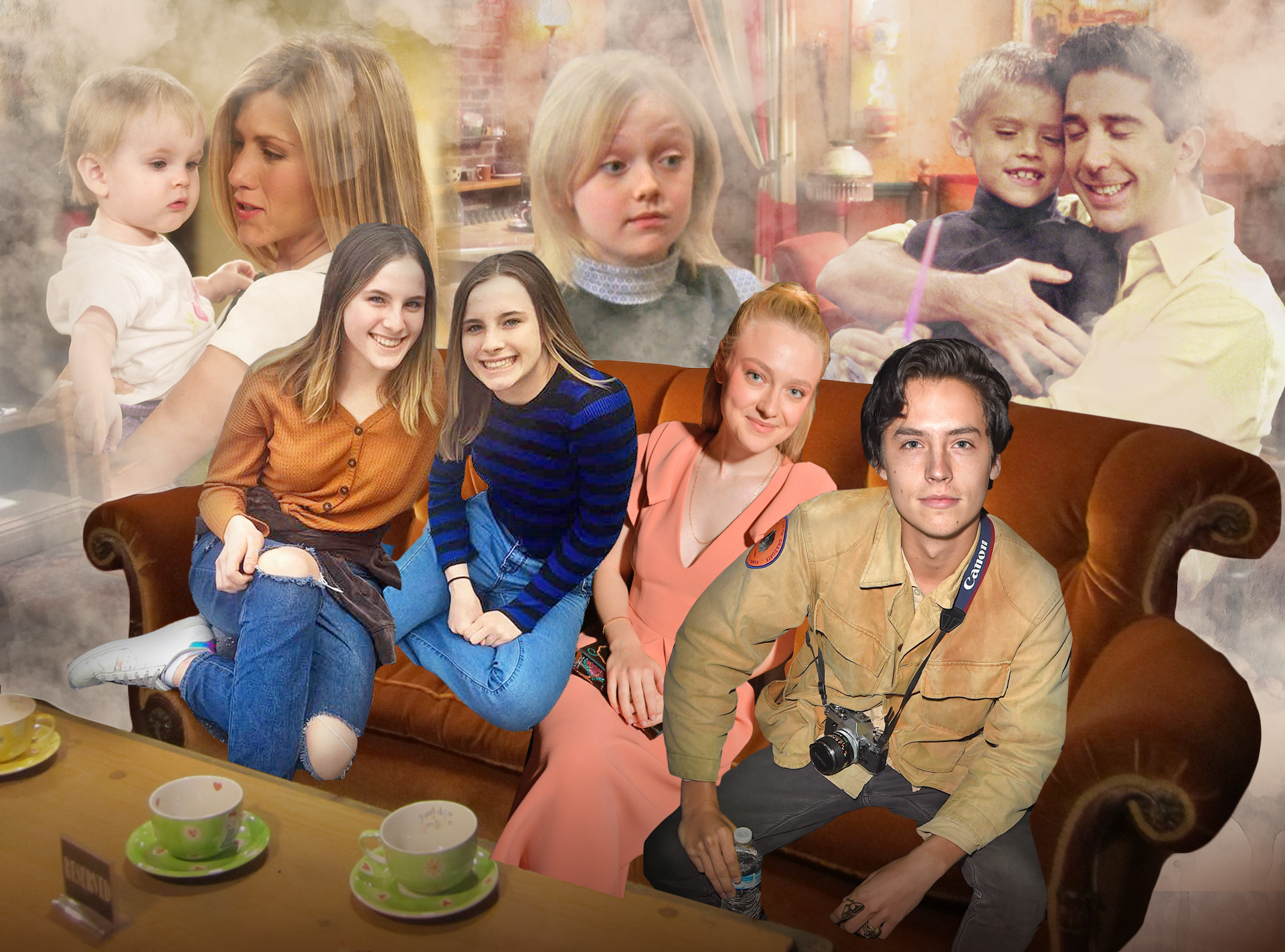 NBC, Getty Images, Shutterstock; Melissa Herwitt/E! Illustration
Nearly 15 years after they exited TV screens for good, the cast of Friends is doing their damndest to prove they're still there for us. 
As if it weren't enough that Instagram newbie Courteney Cox is absolutely killing the game, recreating season five's famed couch pivot and revisiting her old stomping grounds (or at least the exterior apartment building in New York City's West Village that producers led us to believe a chef and a part-time barista could afford), now the universe is gifting us with a true blast from the past. 
While it makes perfect sense that the twins who played baby Emma Geller-Green would have grown up in the decade-and-a-half since the must-watch NBC comedy went off air, seeing them as teenagers was a bit jarring. But, hey, not only does it appear the new millennium has treated 16-year-old Cali Sheldon and Noelle Sheldon well (we presume those residual checks aren't bad), their acting careers are coming along swimmingly as well. 
Though the teens, based in Manhattan Beach, Calif., haven't made it a point to pursue acting hard core–"Our girls go to a normal school, and they go on auditions once in a while, but we don't make it our top priority," mom Gretchen Carpenter told Bustle back in 2015—they still nabbed plum roles in Jordan Peele's highly anticipated horror flick Us. 
Granting an interview to their high school newspaper, the identical twins remarked how floored they were to have a chance to act alongside the likes of Lupita Nyong'o, Winston Duke, and Elisabeth Moss. (Forget the fact that their very first gig had them working with Emmy winner Jennifer Aniston.) 
"I never really thought I could meet people like [Nyong'o, Duke and Moss], so it was a really cool experience," Noelle said of their turn as thoroughly creepy twins. "I didn't want to mess up because they were watching. So it was stressful, but in a good way."
Thankfully Peele provided a steady guiding hand. "Everyone there was super friendly, and Jordan Peele was insanely nice and he is an actual genius," Cali said. "To see him work was really cool, [and] he was super nice to us and he [was] just like a regular guy trying to make us feel comfortable."
Despite their intentions to head off to college soon (Cali has said her dream is to get a biochemistry degree from UCLA, "so I can become a chemist and cure cancer. Then I want to petition for women to be allowed into a football league. Then I'm going to write a book,") the 10-day job filming in Santa Cruz inspired them each to reconsider their dream career paths. 
"I actually thought that I did not want to be an actress before we got the parts because I thought it would be too much work," Cali said, noting the instability of the field, "but seeing all of those [actors on set] as just regular people inspired me." 
Should the high school juniors forge ahead in Hollywood, they'd certainly be amongst good company. Plenty of their contemporaries continued acting after stints on the beloved comedy and its safe to say their careers are anything but D.O.A.