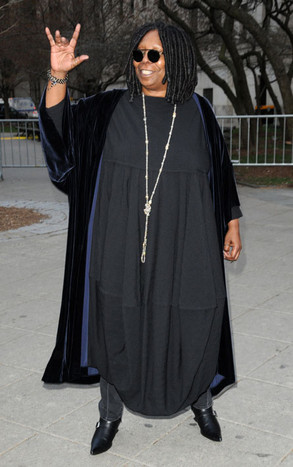 Global trendsetter Whoopi Goldberg stepped out yesterday to the swarm of paparazzi that usually follows her every move. Waving off questions about fashion week and her collaboration with Skrillex, she found time to comment on The View's recent personnel shakeup. "I don't give a f-ck. My job is to show up and be cute by 11:00 and get the f-ck off that show by 12." Spoken like a true pro.
The things about which Whoopi gives f*cks are few, and body-conscious dressing has never been one of them. A proud member of the Muumuu of the Month club, Whoopi's usual MO is shower-curtain chic. But yesterday's outfit was different somehow, despite still being tent-esque. More conservative, more demure, more evocative of someone who'd made an abstinence pact with God...it almost makes us wonder...
Could this be Whoopi's way of subvertly leaking a secret about the biggest movie franchise featuring nuns ever to hit the silver screen (not counting the defunct Sister Wendy movie)?! We think it was.