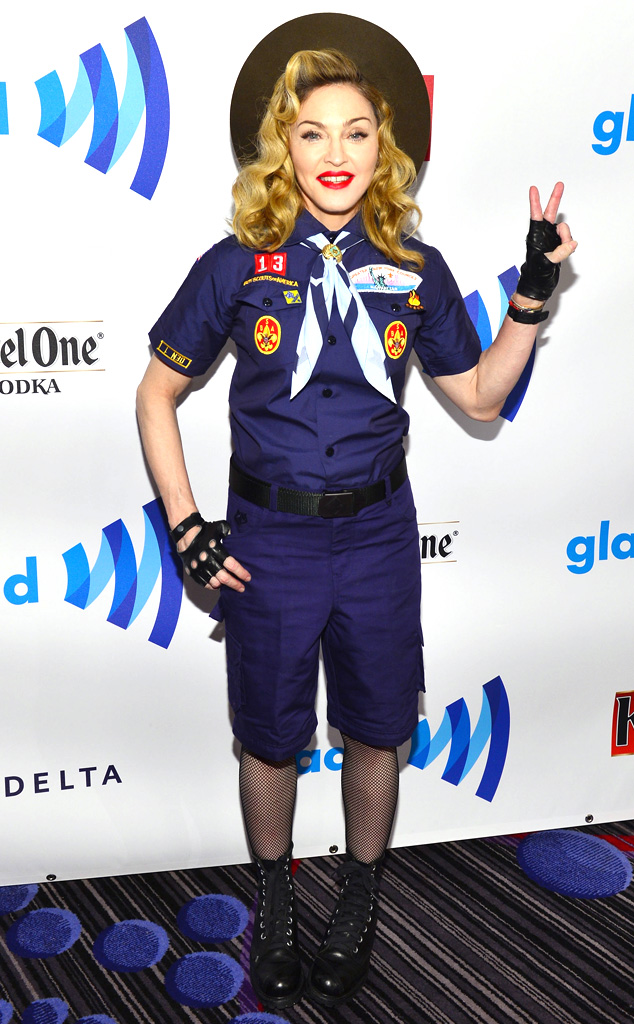 Larry Busacca/Getty Images
Madonna showed up to the GLAAD awards in a Boy Scouts uniform and demanded change!
"I wanted to be a Boy Scout, but they wouldn't let me join," Madonna explained. "I think that's f*cked up. I can build a fire. I know how to pitch a tent. I have a very good sense of direction. I can rescue kittens from trees. I want to do good for the community," Madonna continued for another 12 minutes. "Most importantly I know how to scout for boys. So, I think I should be allowed to be a Boy Scout and they should change their stupid rules."
It's unclear if she wants the boy scouts to allow her specifically to join, females in general, or just anyone that can pitch a tent. Regardless, we're pretty sure the next step is for her to start her own system of merit badges.
You could master the following:
Cone Bra Assembly

Love Justification

Intro to Package Stuffing

Sewing with Pleather

Unconvincing British Accent

The Victimless Divorce

Casual Kabbalah

Beginner Spanish

Pubic Muscle Development - for Females

International Adoption Litigation

Cosmetic HGH Injections

Hothouse Pilates

Simulated Sex with Black Jesus