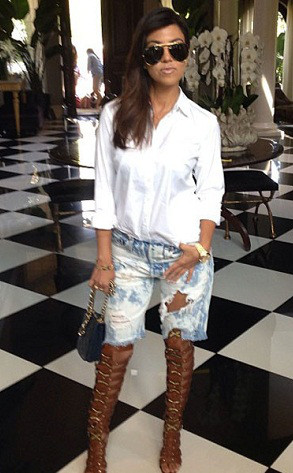 Instagram
Sisters are bound to disagree on fashion...especially the Kardashian sisters!
Khloé Kardashian Odom took to Instagram yesterday to post a pic of her big sis Kourtney Kardashian in her latest outfit, but we're not totally sure whether Khloé liked the ensemble or not!
"So chic! So rich! So lesbian!" wrote Khloé with the pic of Kourtney, in which the eldest Kardashian sister is sporting knee-high strappy gladiator sandals, a white button-up top, large aviator sunglasses and the coup de grace: Distressed, acid-wash jean short cut-offs that go down to her knees.