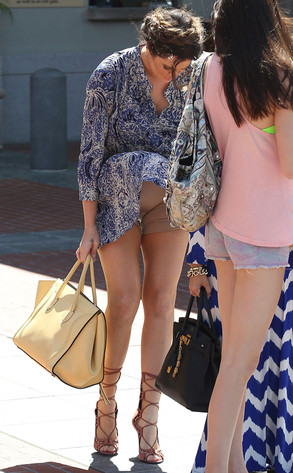 VM/FAMEFLYNET PICTURES
Khloé Kardashian Odom knows the cardinal rule of wearing minidresses: In case of upskirt, be prepared!
The Keeping Up With the Kardashians star stepped out on Friday afternoon in a cute Thakoon dress, and while there wasn't a hair out of place on Khloé's head, her skirt was a different story. One strong gust of wind, and Khloé found herself showing off her nude boy shorts!
But we know Khloe, and she's not one to get embarrassed easily. Shortly after the incident, Khloe tweeted, "Shorts, spanks, boy shorts under a dress/skirt are a must!"