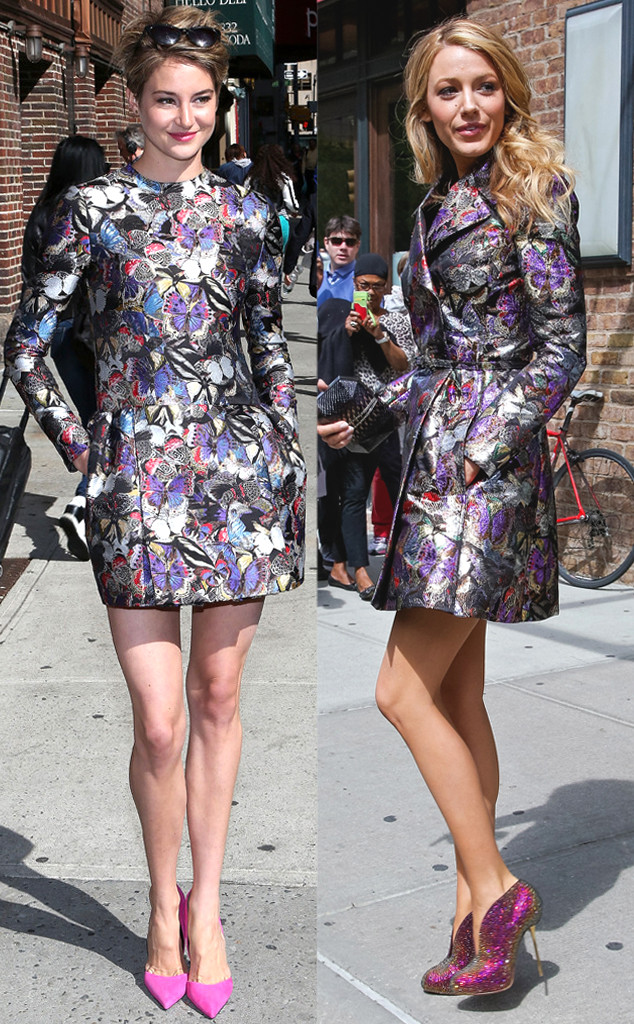 Taylor Hill/WireImage/Alessio Botticelli/GC Images
In addition to being blonde bombshells with successful big screen careers, there's another thing that Blake Lively and Shailene Woodley have in common: the same Valentino print. Did the two enter into a secret agreement where they decided to be fashion twinsies? Or was this a simple coincidence?
Brocade is a sophisticated fabric print that is often used in home furnishings, so it's crucial to select it in the right style to avoid looking like a set of drapes that you'd see hanging in some nobleman's house during the Middle Ages. While the colorful butterfly print gives this design a more fun appeal, there's too much going on with the rest of Blake's outfit.
The thick collar and belted waist only add to the visual chaos, while the heavy style of the coat gives the Savages actress a look that is way beyond her years. It's almost as if she reached into her grandmother's coat closet and grabbed this without looking. We also can't help but wonder: is she wearing anything else under there?
And while we love those sparkly shooties, they're a bit distracting when paired with the busy Valentino—our eyes are getting sore from darting back and forth between the two! We would have preferred it if Blake had ditched the shoes and gone with a heel in a solid color (there are so many to choose from in that print) to further enhance her look.