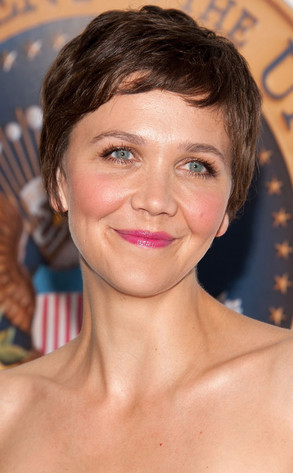 D Dipasupil/FilmMagic
Don't you just want to hug her? That was our first instinct when we saw this photo of Maggie Gyllenhaal at the White House Down New York City premiere. This is a woman who knows how to work a pixie cut.
She doesn't try and sex up her adorable hairstyle by wearing dramatic smoky eyes or over-contouring her cheeks. The White House Down star knows how to pay respect to her adorable pixie predecessors—Audrey Hepburn and Mia Farrow—by wearing simple yet feminine makeup and skipping the excessive hair products.
Her flushed cheeks look like someone just told her, "you are cuter than a panda" and her on-trend fuchsia lips add a summery pop of color to her face.
We also love Maggie's minimal eye makeup. Of course it's not like it takes much to make those big blue eyes stand out—just a champagne eye shadow and a couple coats of good mascara.