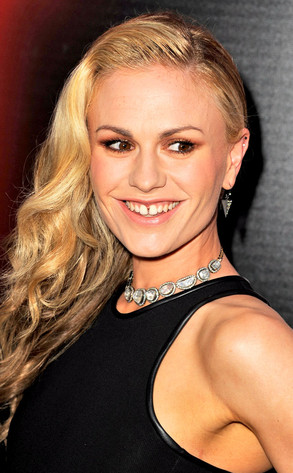 Kevin Winter/Getty Images
Anna Paquin's character on True Blood may be a fairy, but there was no pink gloss or fairy sparkles to be seen during last night's True Blood premiere. Instead, Sookie channeled vampy cohorts like Pam and Jessica with pale skin, side-swept loose curls and subtle winged eyes.
Keeping with the side-swept tresses trend—which if you haven't noticed, is rampant on red carpets everywhere—Anna added a little edge to this look using a bit of gel at the crown and slicking back one side, rather than pinning it.
Our favorite fang banger didn't go overboard with the makeup either. Instead of a dramatic cat or smoky eye, she created a soft, winged eye with bronze and dusty rose. And rather than going with a true vampire red lip, Anna chose a creamy nude lipstick to bring more attention to her stunning eye makeup.