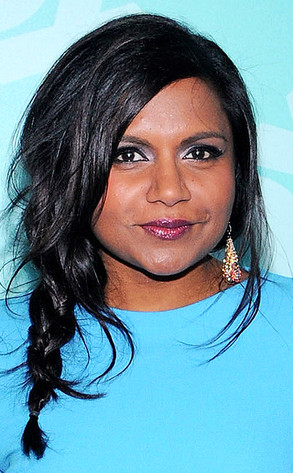 Ilya S. Savenok/Getty Images
When we first saw Mindy Kaling at the Fox upfronts, we knew one thing for certain: She definitely drove there in a convertible. Now, we can't decide if her braid started out that messy or perhaps she got stuck in traffic and tangled it up out of frustration, but, either way, we love it!
The messy braid is so in right now. And the best part is that it doesn't matter if you have layers like Mindy or not—if your hair is long enough to braid, it works! It also doesn't hurt that The Mindy Project star obviously keeps those shiny locks in shape with regular conditioning and care.
We're also having a love fest over her eye makeup. Meow, Mindy! This girl can rock an edgy cat eye. She's purrfected the thick dark liner on the top lash line that ends in a wispy wing and the iridescent white in the corner amplifies her eyes.