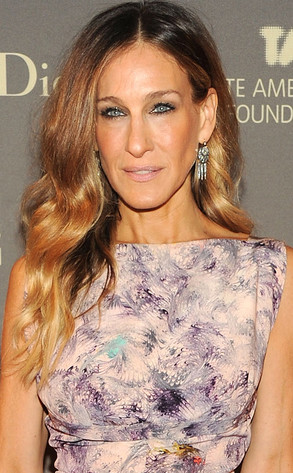 Ben Gabbe/Getty Images
We're so done with ombre. Come on, people! When you can buy it in a box at your local drugstore, it's no longer a "hot look." Not to mention that Sarah Jessica Parker's hair seems to be having an identity crisis between ombre and dip-dyed—neither of which is very age appropriate.
SJP, we plead with you to bring back the loose curls or long sexy slept-in waves you rocked through the Sex in the City years! We'll take any look, really—except for that too-short bob, obviously. We know you're probably trying to distance yourself from Carrie Bradshaw, but at least go back to one color and leave the ombre look for the teenagers and pop tartlets.
As for the eye makeup, we know lining the upper lash line and waterline with black pencil is Sarah's thing, but the eye shadow she's wearing just doesn't bring out her gorgeous blue eyes. Like we always say, sparkle with caution when you're a woman of a certain age. Not only can that sparkle draw attention to the signs of aging, but if it moves from your eyes to your cheeks, you're officially ready for a rave.