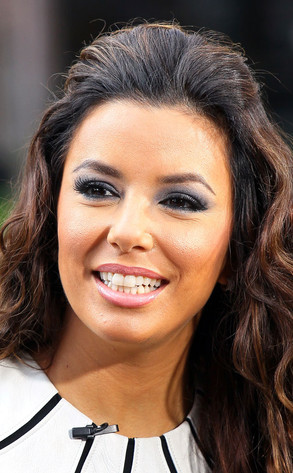 JB Lacroix/WireImage
We can't decide whether Eva Longoria is trying to land a Manzo brother or land a new gig as a housewife, but we do know we've never seen this much mascara and frosty makeup on anyone that's not one of the Real Housewives of New Jersey.
Perhaps Eva is so excited for the upcoming season that she decided to mimic the Jersey ladies' signature mascara-coated fake lashes and frosty pink lip-gloss. We hate to break it to you—and we hope none of those Jersey broads try to catfight with us over this—but frosty pink lip-gloss isn't flattering on anyone.
We were also disappointed that Eva broke from her usual gorgeous winged eyes and warm bronzy shadows and instead used a metallic bluish grey shadow, which did nothing for her deep brown eyes and coloring.
Ladies, we know how pretty metallic shadow is, but unless your eyes are showing zero signs of aging, the metallic and frosty shadows simply don't work. They actually bring more attention to imperfections.