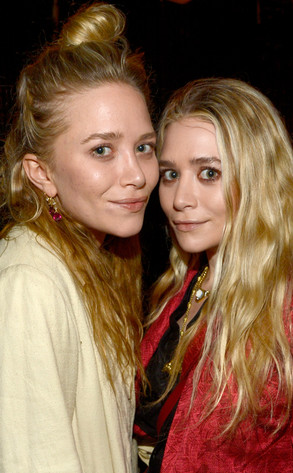 Kevin Mazur/WireImage
How do you expect us to find something nice to say about the looks Mary-Kate and Ashley Olsen showcased at a recent Rolling Stones concert when we can't begin to define that little hairball on top of M.K.'s head and Ashley's makeup makes her look like she just left an audition for The Walking Dead?!
First, Mary-Kate's hair: Our biggest problem isn't with the messy updo, but the ratty stringy ends—on both twins, for that matter. Good for them for not buying into the hair extension craze, but these girls really need a healthy trim (and by healthy trim, we mean 2-3 inches).
Wait! We found something nice to say! Mary Kate's skin looks amazeballs! That's how you rock a fresh-faced look. She clearly takes care of her skin and wanted to show it off by not caking on foundation and powder...unlike her twin. M.K. could have used a little concealer under her eyes and, if we had our way, perhaps a hint of color on her lips, but overall her face is gorg.