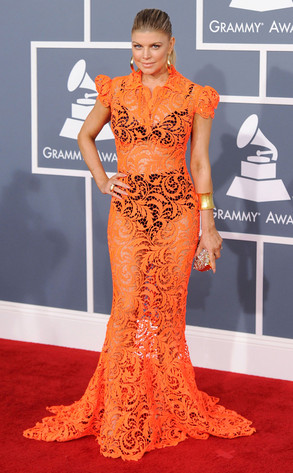 ©Jason Merritt/Getty Images
It's sheer madness!
Whatever you think of Fergie's Jean Paul Gaultier gown, worn with a Judith Leiber clutch and gold Neil Lane jewlery, you can't blame her for being boring. The orange lace number leaves nothing, including black bra and undies, to the imagination.
And to think the Dutchess told Ryan Seacrest, "I had two choices, this was the safe one." We'd love to have seen the risky reject!
All kidding aside, we're on Team Fergie with this one—even with her granny panties. (Gaultier showed a sexier option on the runway in Paris two weeks ago with a thong.)
Click through to vote on the singer's sheer outfit and all of tonight's most fashionable moments from Lady Gaga, Taylor Swift, Katy Perry and more in our special 2012 Grammys Fashion Police gallery!