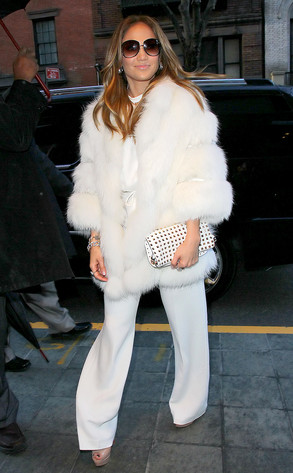 Jackson Lee / Splash News
It's time for someone to pronounce a verdict on this American Idol judge's outfit.
And Joan Rivers has plenty to say about the white suit and matching fur coat Jennifer Lopez wore while promoting Q'Viva! The Chosen in NYC.
"She had a great time at the Today show until Al Roker thought she was a coconut macaroon and took a bite out of her ass," quipped the Fashion Police host.
And that's not all. The hostess with the mostest also covers Rihanna, Drew Barrymore, Cate Blanchett and more!
So click in and get all of Joan's jokes that didn't make it on air in our sassy sartorial photo gallery.