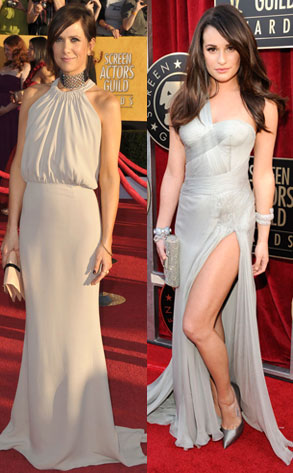 Kevin Mazur/WireImage; John Shearer/WireImage
In honor of last week's SAG Awards, Joan Rivers is sharing some of the gags cut from Monday night's Fashion Police: 2012 SAG Awards special.
And the Fashion Police host can't decide which style perp to slap the cuffs on first: "I look at Kristen [Wiig] and I think, 'I hate that choker.' I look at Lea [Michele] and I think, 'I'd love to choke her.'"
Joan's also riffing on Heather Morris' trainwreck, Tina Fey's vintage Versace, Shailene Woodley's shower curtain and lots more.
So click in for all the laughs that didn't make it on the air in our sassy sartorial photo gallery.