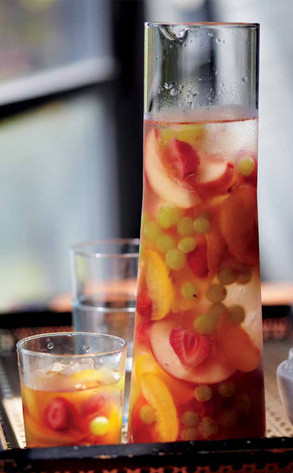 Curtis Stone
White Sangria
Serves 4
Ingredients
One 750-ml bottle Sauvignon Blanc
½ cup St-Germain elderflower liqueur
½ cup sugar, preferably superfine
10 ounces fresh strawberries, hulled, halved if large
2 ripe plums, preferably yellow, pitted and cut into thin wedges
2 nectarines, preferably white, pitted and cut into thin wedges
1 cup green or red seedless grapes, halved if large
1 lemon
Ice cubes
Method
- In a large pitcher, combine the wine, elderflower liqueur, and sugar and stir to dissolve the sugar. Add the strawberries, plums, nectarines, and grapes.
- Using a vegetable peeler, remove the zest from the lemon, trying to avoid the white pith that lies beneath the yellow skin. Add the zest to the pitcher. Squeeze and strain the lemon juice and add to the pitcher. Cover and refrigerate for at least 2 hours, or, preferably, overnight.
- Pour the sangria into ice-filled glasses, making sure that each serving includes some fruit. Serve immediately.