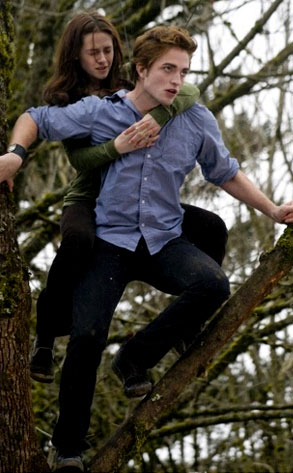 UPDATE: A whopping 75 categories wasn't nearly enough. On July 8, 2009, Fox announced second wave of 13 more categories (see below), specifically aimed at summer movies and television. They've also jumped on the Twitter bandwagon, adding the Choice Twit section, for which E!'s own Kim Kardashian is a nominee.
A performance by the Black Eyed Peas was also promised in the announcement.
_____________________________
Twilight may have been ignored at the Oscars, Golden Globes and the like, but the vampire movie is scoring where it really counts—with the kids!
The Robert Pattinson romance earned an even dozen 2009 Teen Choice Award nominations, including Choice Movie: Drama and Choice Movie: Romance.
High School Musical 3: Senior Year and Gossip Girl each landed an impressive 10 nods, while Miley Cyrus single-handedly scored 10 of her own. The Jonas Brothers, who are hosting the big show, squeaked by with a nice nine.
Additionally, the E! family walked away with four fabulous gongs—Choice Reality Show for Keeping Up With the Kardashians, Choice Female Reality Star for Kim Kardashian, Choice Late Night Show for Chelsea Lately and Choice TV Personality for E! News' Ryan Seacrest!