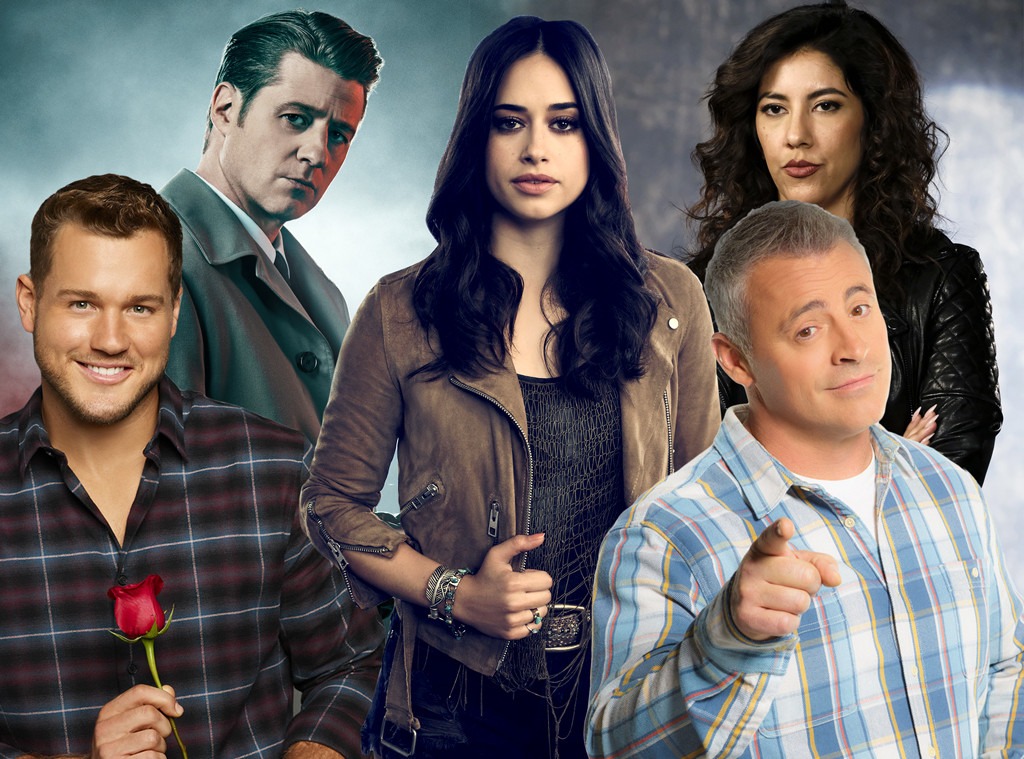 It's that time of the year, a dark time, a time when there aren't new episodes of your favorite TV shows to comfort you during the snow storm and/or forced family bonding. But new episodes will return. And we're here to help.
Streaming platforms are dropping shows left and right, and cable channels continue to buck traditional scheduling norms, so this guide right here is just for new and returning shows on broadcast—Fox, NBC, CBS, ABC and The CW.
Check out the full list of premieres below. Don't see your favorite show? Have no fear, some returning favorites haven't been scheduled yet.
Sunday, Dec. 30
8 p.m. The Orville special premiere (Fox)
Tuesday, Jan. 1
8 p.m. The Gifted (Fox)
9 p.m. Lethal Weapon (Fox)
Wednesday, Jan. 2
8 p.m. Gordon Ramsay's 24 Hours to Hell and Back (Fox)
9 p.m. The Masked Singer series premiere (Fox)
9 p.m. SEAL Team (CBS)
10 p.m. Criminal Minds (CBS)
Thursday, Jan. 3
8 p.m. Gotham (Fox)
8 p.m. The Titan Games (NBC)
8 p.m. The Big Bang Theory (CBS)
8:30 p.m. Young Sheldon (CBS)
9 p.m. The Orville time period premiere (Fox)
10 p.m. The Blacklist (NBC)
10 p.m. S.W.A.T. (CBS)
Friday, Jan. 4
8 p.m. Fresh Off the Boat (ABC)
8 p.m. Last Man Standing (Fox)
8 p.m. MacGyver (CBS)
8:30 p.m. Speechless (ABC)
8:30 p.m. The Cool Kids (Fox)
9 p.m. The Blacklist time period premiere (NBC)
9 p.m. Hawaii Five-0 (CBS)
10 p.m. Blue Bloods (ABC)
Sunday, Jan. 6
8 p.m. Golden Globes (NBC)
8 p.m. God Friended Me (CBS)
8 p.m. The Simpsons (Fox)
8:30 p.m. Bob's Burgers (Fox)
9 p.m. NCIS: Los Angeles (CBS)
9 p.m. Family Guy (Fox)
9:30 p.m. Rel (Fox)
10 p.m. Madam Secretary (CBS)
Monday, Jan. 7
8 p.m. The Bachelor (ABC)
8 p.m. America's Got Talent: The Champions (NBC)
8:30 p.m. Happy Together (CBS)
10 p.m. Manifest (NBC)
Tuesday, Jan. 8
8 p.m. NCIS (CBS)
8 p.m. The Conners (ABC)
8 p.m. Ellen's Game of Games (NBC)
8:30 p.m. The Kids Are Alright (ABC)
9 p.m. black-ish (ABC)
9:30 p.m. Splitting Up Together (ABC)
10 p.m. NCIS: New Orleans (CBS)
10 p.m. The Rookie (ABC)
10 p.m. New Amsterdam (NBC)
Wednesday, Jan. 9
8 p.m. The Goldbergs (ABC)
8 p.m. Chicago Med (NBC)
8:30 p.m. Schooled (ABC)
9 p.m. Modern Family (ABC)
9 p.m. Chicago Fire (NBC)
9:30 p.m. Single Parents (ABC)
10 p.m. Match Game (ABC)
10 p.m. Chicago PD (NBC)
Thursday, Jan. 10
9 p.m. Brooklyn Nine-Nine (NBC)
9 p.m. Mom (CBS)
9:30 p.m. The Good Place new time period (NBC)
9:30 p.m. Fam (CBS)
10 p.m. Law & Order: SVU (NBC)
Friday, Jan. 11
8 p.m. Blindspot (NBC)
9 p.m. Crazy Ex-Girlfriend (The CW)
Monday, Jan. 14
8 p.m. The Neighborhood (CBS)
8 p.m. The Resident (Fox)
9 p.m. The Passage (Fox)
9 p.m. Magnum P.I. (CBS)
10 p.m. The Good Doctor (ABC)
10 p.m. Bull (CBS)
Tuesday, Jan. 15
8 p.m. The Flash (CW)
9 p.m. Roswell, New Mexico (The CW)
9 p.m. This Is Us (NBC)
Wednesday, Jan. 16
8 p.m. Riverdale (The CW)
9 p.m. All American (The CW)
Thursday, Jan. 17
8 p.m. Grey's Anatomy (ABC)
8 p.m. Supernatural (The CW)
9 p.m. A Million Little Things new time slot (ABC)
10 p.m. How to Get Away With Murder (ABC)
Friday, Jan. 18
8 p.m. Dynasty (The CW)
Sunday, Jan. 20
8 p.m. Supergirl (The CW)
9 p.m. Charmed (The CW)
Monday, Jan. 21
8 p.m. Big Brother: Celebrity Edition (CBS)
8 p.m. Arrow (The CW)
9 p.m. Black Lightning new time slot (The CW)
Thursday, Jan. 24
9 p.m. Legacies (The CW)
Sunday, Jan. 27
7 p.m. Rent Live (Fox)
Thursday, Jan. 31
9:30 p.m. Will & Grace new time period (NBC)
Sunday, Feb. 3
10 p.m. ET/7 p.m. PT (approximate) The World's Best (CBS)
Monday, Feb. 4
8:30 p.m. Man With a Plan (CBS)
Tuesday, Feb. 5
8 p.m. American Housewife new time period (ABC)
Wednesday, Feb. 6
8 p.m. The World's Best time period premiere (CBS)
Friday, Feb. 15
9 p.m. Proven Innocent (Fox)
Wednesday, Feb. 20
8 p.m. Survivor (CBS)
9 p.m. The World's Best new time period (CBS)
Monday, Feb. 25
8 p.m. The Voice (NBC)
10 p.m. The Enemy Within (NBC)
Tuesday, Feb. 26
9 p.m. World of Dance (NBC)
Wednesday, Feb. 27
10 p.m. Whiskey Cavalier (ABC)
Sunday, March 3
8 p.m. World of Dance regular time slot premiere (NBC)
8 p.m. American Idol (ABC)
9 p.m. Cosmos: Possible Worlds (Fox)
10 p.m. Good Girls (NBC)
Thursday, March 7
8 p.m. Superstore (NBC)
8:30 p.m. A.P. Bio (NBC)
9 p.m. Station 19 (ABC)
10 p.m. For the People (ABC)
Tuesday, March 12
10 p.m. The Village (NBC)
Wednesday, March 13
10 p.m. SEAL Team new time period (CBS)
Monday, March 18
9 p.m. 9-1-1 (Fox)
10 p.m. The Fix (ABC)
Wednesday, March 27
9 p.m. Million Dollar Mile (CBS)
Tuesday, April 2
9 p.m. The Village regular time slot premiere (NBC)
Sunday, May 19
Hair Live! (NBC)
Wednesday, May 22
8 p.m. The Amazing Race (CBS)
Monday, June 17
10 p.m. Grand Hotel (ABC)