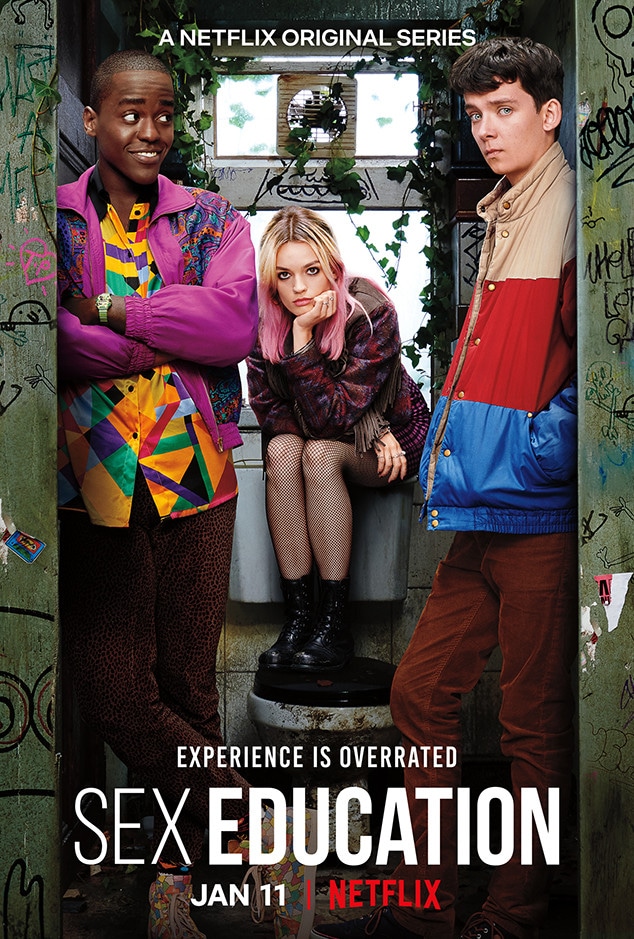 Netflix
Otis Milburn's life is anything but ordinary, considering his mother, Jean, has no problem confronting him about his staged masturbation scenes. And it gets even stranger when he becomes his school's own (unofficial) sex therapist in Netflix's new coming-of-age series Sex Education. Peep the first trailer for the new series starring Asa Butterfield and Gillian Anderson below.
In the new series, viewers will meet Dr. Jean Milburn (Anderson), a sex therapist, and her son, Otis (Butterfield), a high schooler and amateur sex therapist. Otis begins dolling out advice to his classmates—in exchange for money—and what happens next is typical teen comedy. And we mean that in the best way possible. Problems he encounters are out of control pubes, an addiction to "wanking," genital size-related confidence issues, and so much more.
"You can't choose who you're attracted to. You can't engineer a relationship. You are who you are. Don't let anyone take that away from you," Otis says in the trailer below.
Sex Education looks like Netflix's next young adult hit. The series, which hails from creator and showrunner Laurie Nunn, also stars Emma Mackey, James Purefoy, Ncuti Gatway, Connor Swindells and Kedar Williams-Stirling.
"The show is a funny, heart-warming and utterly cringe-worthy look at teenage sex, love and identity. It's a contemporary British love-letter to the American high-school TV shows that so many of us grew up loving. It takes the familiar tropes of the genre and pushes them into new and current territory, telling a nostalgic coming of age tale from a different perspective," Nunn said.
The hook of a teen sex therapist quickly opened up doors for the writers, Nunn said. "What started as an interesting hook for a comedy show about teenagers, quickly progressed into an opportunity to deal with often unspoken and difficult issues concerning early sexual experiences, the painful reality of puberty and the urgent need for inclusive sex education," she said.
Sex Education premieres Friday, Jan. 11 on Netflix.