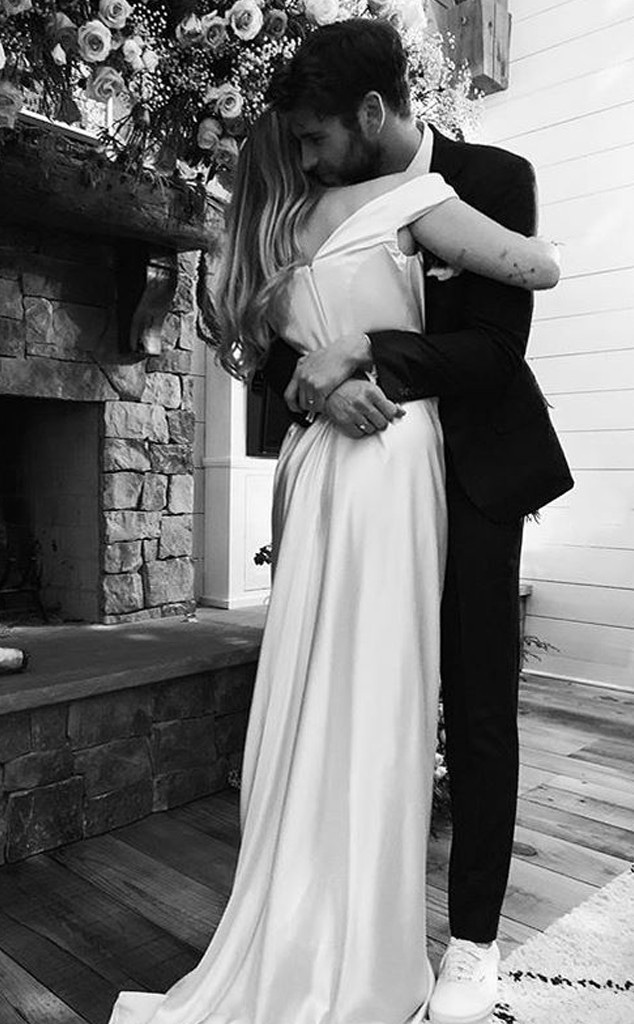 Instagram
 Miley Cyrus broke out some of her best dance moves on her wedding day.
Don't believe it? Just watch.
The singer shared a video on Twitter of her dancing to Bruno Mars and Mark Ronson's song "Uptown Funk" as she shimmied and sang along in her stunning Vivienne Westwood dress. She flipped her hair and coordinated her moves to the lyrics in the song. Towards the end of her video, her new hubby Liam Hemsworth took a breather from filming just her and made cameo while busting out his moves in front of the camera.
Their home was filled with a mixture of wedding and Christmas decorations. One archway was covered in a colorful balloon canopy (it could be the same one seen in Hemsworth's birthday post to Cyrus) and a giant Christmas tree took up much of the background. The tree was covered in bright ornaments and lights.
Oh yeah, Cyrus and Hemsworth tied the knot in a secret wedding at their home in Franklin, Tennessee on Dec. 23.
The couple sparked some speculation on their wedding night and into the next few days as some photos and videos emerged from that evening. Cyrus' sister Noah Cyrus posted a photo of herself crying and balloons that spelled out "Mr & Mrs" were seen in the background.
Neither Cyrus nor Hemsworth confirmed the nuptials until Wednesday when the "Wrecking Ball" singer put up pictures on Instagram of their special day.
The pictures that the 26-year-old singer shared showed the newlyweds hugging and embracing each other. "10 years later..." she captioned it. In a second picture, they shared a smooch in what Cyrus called "probably our one - millionth kiss."
The newlyweds put a bit of a casual spin on their wedding look. The 28-year-old Aussie actor donned a beautifully cut black suit and black tie but wore white Vans for shoes. In her video, Cyrus danced barefoot—although that does tend to happen into the night at weddings. 
The singer's dance party to "Uptown Funk" is appropriate and meaningful for another reason. She and Ronson collaborated on her recent song "Nothing Breaks Like a Heart" which delves into controversial subjects like guns, kneeling during the National Anthem and religion. Cyrus and the famed producer also worked on "Happy XMas (War Is Over)" with John Lennon and Yoko Ono's son Sean Ono Lennon.
She and Ronson have been promoting (including a topless post by Miley) and performing their new song around the world. On Dec. 8, the two artists gave an "acoustic and impromptu" concert at a club in London, much to attendees' surprise and delight.
Plus, there was her epic feminist version of the hit Christmas song "Santa Baby."
To quote "Uptown Funk," we hope Cyrus and Hemsworth have a marriage "smoother than a fresh jar of Skippy."
Congrats again to the newlyweds!