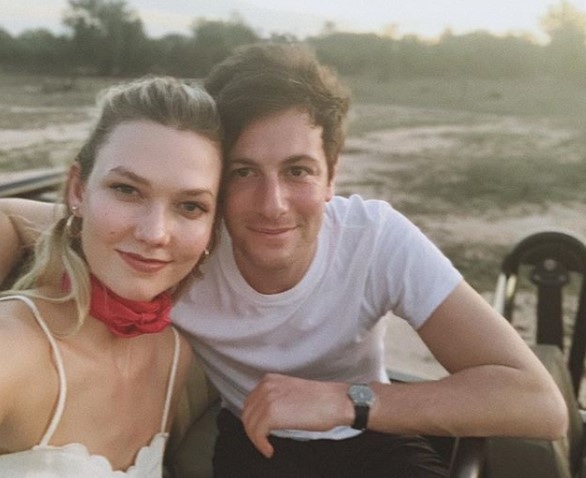 Instagram
Karlie Kloss and Joshua Kushner are enjoying their honeymoon two months after their surprise wedding.
The model and 33-year-old Kushner traveled to South Africa and have posted a number of photos from their romantic getaway. In one picture, Kloss posed in a selfie with her new husband as they sat in the back of a cruiser presumably used for a safari. She wore a white tank top and a red bandanna or headband around her neck and had her hair down. Kushner also wore a white shirt and dark pants. A video of their safari posted on her Instagram Story showed them just feet away from a family of elephants.
In a second photo, Kloss waded in their infinity pool as an elephant went traipsing by. It probably wasn't the same one from their safari, but there's no knowing for sure!
Kushner seems to be ever the photographer, as evidenced by his uploads on Instagram. In one picture that he documented from their honeymoon, Kloss looked back at the camera with a soft smile as she wore a straw hat and blue shirt or dress with white flowers on it.
Kloss and Kushner got married on Oct. 18 in a private Jewish ceremony in upstate New York. The bride wore a custom Dior gown and they exchanged "I do's" in front of about 80 people. Kushner reportedly proposed to her in upstate New York as well.
A few days after the wedding, the newlyweds jet off on a weekend "minimoon" to a tropical place with crystal clear blue waters.
The two of them got engaged in July and announced the news in a sweet photo of them posing in front of a body of water. "I love you more than I have words to express. Josh, you're my best friend and my soulmate," the tech entrepreneur wrote on Instagram. "I can't wait for forever together. Yes a million times over."
The businessman is the younger brother of Jared Kushner, senior adviser to President Donald Trump and husband of Trump's daughter, Ivanka Trump. Although Kloss is a noted Democrat and supported Hillary Clinton in 2016, she said she doesn't let "complications" get in the way of her marriage and relationship.
"At the end of the day, I've had to make decisions based on my own moral compass—forget what the public says, forget social media. I've chosen to be with the man I love despite the complications," she told Vogue in September.
She said at another point in the interview, "Josh and I share a lot of the same liberal values that guide our lives and the things we stand for."
When she isn't honeymooning in South Africa or embodying "fitspo" goals on Instagram, she's taking charge of her company called Kode With Klossy, which teaches girls how to code and "become leaders in tech."
Happy honeymooning!