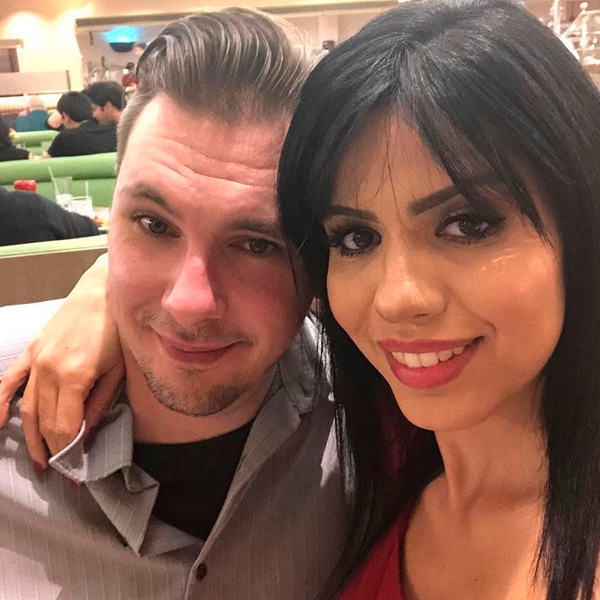 Instagram
Following cheating allegations, this 90 Day Fiancé couple rang in the holidays—together. 
Earlier this month, TLC's season six star Larissa Dos Santos Lima publicly accused her husband Colt Johnson of having an affair with another woman, citing alleged Instagram direct messages between her husband and the woman. It seems the couple, who secretly wed in June, have since put on a united holiday front amid their relationship drama. 
On Christmas on Tuesday, the couple shared photos of themselves smiling together and with loved ones on social media. "Happy night with my favorites ones," Larissa captioned one group shot with her head leaning on Colt's shoulder. 
She also used the pictures as an opportunity to promote their cameo service. "Merry Christmas everyone! We are still doing Christmas cameos videos. Book yours now! I can send a special msg to your love ones today!" she added with a photo of the pair with her arms around his neck. 
Meanwhile, over on Colt's page, he added, "Merry Christmas and Happy Holidays. What did you get for Christmas? (We got an Nintendo Switch)."
Back at home, the two advertised their cameo services again. "Please book us with cameo for shoutouts, birthdays—pretty much whatever. We're crazy," Colt said into the camera. 
Last week, he addressed the allegations publicly, writing to fans, "I have received a lot of direct messages, a lot of things said about what happened. I would like to say yes I am human and I have faults. I most definitely made mistakes but my relationship with Larissa is more than what you see on TV. We are like any couple in the world with it's ups and downs. We also have the fortunate misfortune of also exposing our selves for millions of people to dissect, diagnose and discuss."
As he continued, "Yes, I have received massive amounts of attention from fans, especially women. These things mixed with a relationship that has its problems makes for a dangerous scenario. I crossed the line between fan and fandom. The reality sometimes is lost and this is something I have to handle in private. In the past Larissa and I always tried to make it up and now we will talk about our futures. I am taking the responsibility for the things I did and for the people that suffered."
Just days later, the reality star followed up, telling fans, "All of these accusations are ridiculous and need to stop. Whatever problems I have in MY relationship I'll deal with them. I will work on them in private. There is nobody special for me, there is no new girlfriend, I love Larissa and I want to fight for our relationship and I apologize for all the pain I caused to her."
Days ago, Colt issued a holiday social media message to his followers and once again acknowledged their recent drama. "Thank you, every one of you. The good, the bad, and the ugly. Regardless of what camp you fall into, I hope that each of you and your families are safe and happy during this holiday season. I am not proud of my actions as of late, I learned a lot about my self and I hope moving forward that I can become a better person because of it. As for my family, Larissa, my mother and the fur kids are going to try to take a break and heal. I pray that we can all come together and remember why we are a family, why we love each other," he concluded. "Happy holidays and best wishes. Love you all."