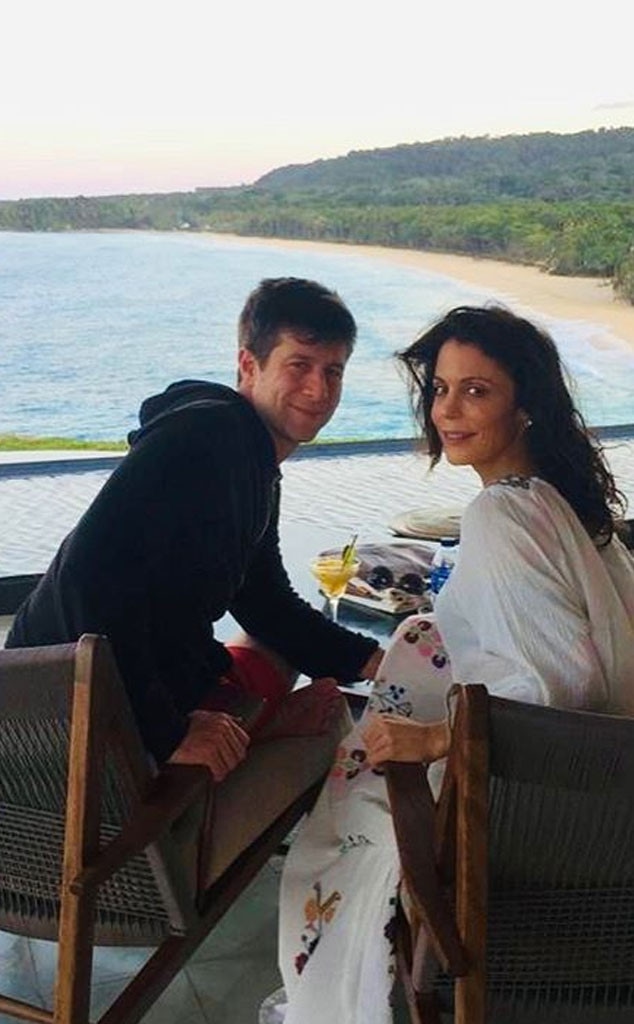 Instagram
Bethenny Frankel has a new man in her life.
The Real Housewives of New York City star became Instagram official with her rumored beau, Paul Bernon. The two of them jetted off to the Dominican Republic for the holidays and Frankel posted about it on the social media website.
One picture with Bernon showed them enjoying the sunset from a room that overlooked the ocean and hills. In a second picture, Frankel and Bernon posed together closely with her head on his cheek. "Bye bye Dominican Republic," she wrote. "What a beautiful country of beautiful people. #healingretreat" 
Frankel did not elaborate on what exactly her "healing retreat" consisted of, but she did reveal on Dec. 17 that she was "5 minutes from dying" after suffering an allergic reaction from fish.
"I have rare fish allergy. Sun,I had soup,itched & was unconscious for 15 mins then to ER & ICU for 2 days w BP of 60/40," the Housewives star tweeted. "I couldn't talk,see, thought I had a stroke & dying & told if 5 mins later I'd be dead. 911 & EPI saved me.I'll never not carry an #epipen."
In another tweet, Frankel called the entire experience "a wake up call."
Plus, Bernon was the one who saved her life. She credited him in a tweet for doing so.
According to People, Bernon got his bachelor's degree from Boston University (Frankel's alma mater!) and a master's degree from New York University in Real Estate. He also founded a production company called Burn Later.
About four months ago, Frankel's boyfriend Dennis Shields was found dead in his apartment at Trump Tower in New York. The Skinnygirl founder spoke candidly about her loss and the void in her life left by Shields. A source told E! News at the time of his death that Frankel was "heartbroken."
About a month after his death, Frankel told E! News that she believes his spirit is still with her. At the launch of her Skinnygirl Jeans collection at Macy's she said, "He was a big cheerleader for me. So, he's here with me today."
It seems like Frankel has been on a personal "healing retreat" for a few months now, and she's "making changes" in her life for the better.