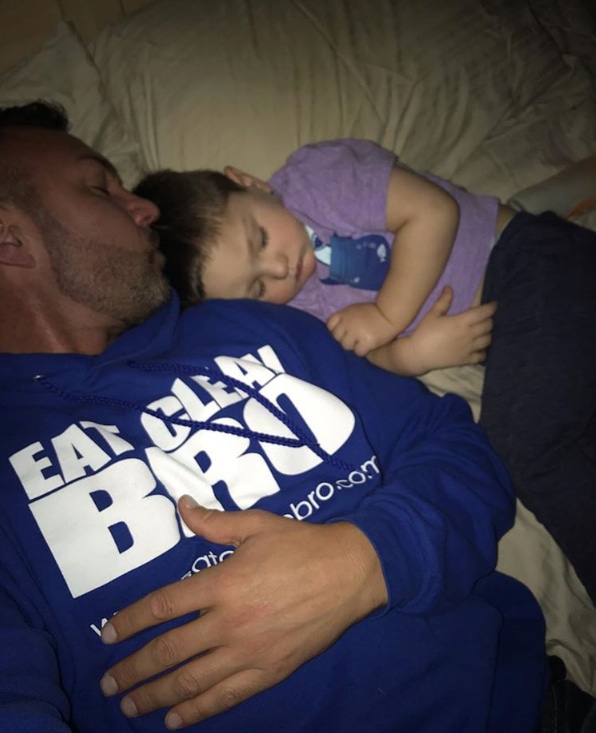 Instagram
Roger Mathews is sending some not-so-subtle messages in his Instagram captions.
On Sunday, Mathews posted a video walking hand-in-hand with his son Greyson Mathews towards a playground. "I'll always be right by your side," he wrote as the caption. Last week, the 43-year-old shared another picture with Greyson as the two of them snuggled together on his bed. He captioned it "Heart half full."
It may not be too much of a stretch to say that these captions and photos are digs at his wife Jenni "JWoww" Farley. The couple announced in late September that they would be splitting up, despite Mathews' grand attempts to "win my wife back."
On Dec. 14, JWoww was granted a temporary restraining order against Mathews after police responded to a call at their home in the early hours of the 14th.
That night, Mathews was escorted out of the home that he and JWoww share and posted a number of videos on social media about what happened. 
Their big fight reportedly stemmed from an argument over JWoww's work schedule, but it turned into Mathews recording their argument and lots of yelling. 
"Unfortunately, I don't know why I'm on this end of it, but is that my ex cannot control her emotions in front of our children and literally turns my child against me," Mathews said in one of the videos recorded in the back of a police car. 
In another video, he shared, "I'm not allowed to speak to my children. I'm not allowed to go get clothes, I'm not allowed to step foot in the house that I've lived in for eight years. I miss my kids, man. It's just wrong. It's wrong."
According to JWoww's account on the police report from that night, Mathews began filming their argument and allegedly told her she is "a piece of s--t mother, and is damaging to their kids."
Mathews said he began filming "in fear" that his wife would "make false accusations" about him. The restraining order gave JWoww full temporary custody of their kids Greyson and Meilani Mathews as well as temporary custody of their home.
On Dec. 14, JWoww's team published a statement about what happened and asked for privacy at the time. "Certain events transpired last night which lead Jenni to involve authorities, as she felt it was in her best interests, and the best interests of her children to do so," the statement said. "Any statements and social media posts depicting anything to the contrary are entirely false, misleading, and intentionally designed to cast Jenni in a negative light. She is proud to be a hard working parent who provides for her children."
Mathews told E! News on Thursday, "I love my children and I will never stop fighting for them."