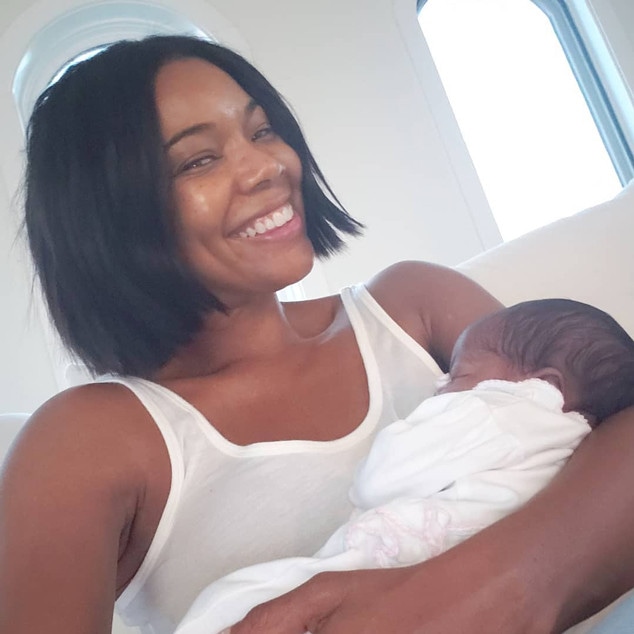 Instagram
Gabrielle Union and Dwyane Wade's daughter Kaavia James Union Wade isn't even two months old yet and she already has top-notch music taste. Is anyone surprised?
Kaavia is Union and Wade's first child together, and she was born via surrogate on Nov. 7. The Bring It On star has been open about her struggles with infertility and has been discussing it even more since Kaavia came into the world. 
On Sunday, Union joined Connie Simpson aka Nanny Connie on an Instagram Live and discussed her bond with Kaavia, the nanny and which celebrity knew about the surrogacy. Nanny Connie is a well-known author and she also has helped celebrity couples like Justin Timberlake and Jessica Biel and John Krasinski and Emily Blunt.
Union explained on the Live that she met Nanny Connie at a very serendipitous moment in her life. "What people didn't know at that moment that I came across Nanny Connie is that we had just implanted our embryo into our surrogate," she said. "Nobody knew. We had not told anyone."
Nannie Connie then gave what Union called "a soul hug."
Connie said, "I came to the realization that a miracle was happening and you really needed that soul hug."
Union also revealed the steps that she and Wade took to bond with Kaavia while she was still in the surrogate's womb. She said she and the Miami Heat star as well as his three kids taped themselves speaking. "The surrogate would play it with headphones on her belly so Kaavia could get used to our voices," she explained.
It wasn't just her immediate family's voices that she heard, either. "Kaav heard everything from Astroworld to Beyoncé to Earth Wind and Fire to The Whispers," Union elaborated. Kaavia apparently loves the Hamilton soundtrack, too.
"It made that transition from surrogacy into our home a lot smoother," she added.
Michael Buckner/Variety/REX/Shutterstock
At another point in their video together, the Being Mary Jane star divulged that Kaavia was born a few weeks early. "We thought we had at least two more weeks," she said.
Wade was in Miami at that moment, so he hopped on a plane and made it in time for his daughter's birth. Apparently Union "forgot everything" except for her "work wig." 
Union also explained that Jessica Alba was one friend who supported her throughout the entire surrogacy process. She said she "confided in her early on."
On Dec. 10, Union posted an Instagram video about Kaavia's "birth journey" and it provided a lot of insight into how Wade and Union met their "miracle baby."
"Every family is unique. How each family is created and comes together is special. Kaavia James Union Wade's journey into our arms was long and at times brutal," she captioned the video. "There were heartbreaks that nearly broke us and streams of tears that turned into raging rivers. And then came Kaavia James."
And we're so happy she's here!