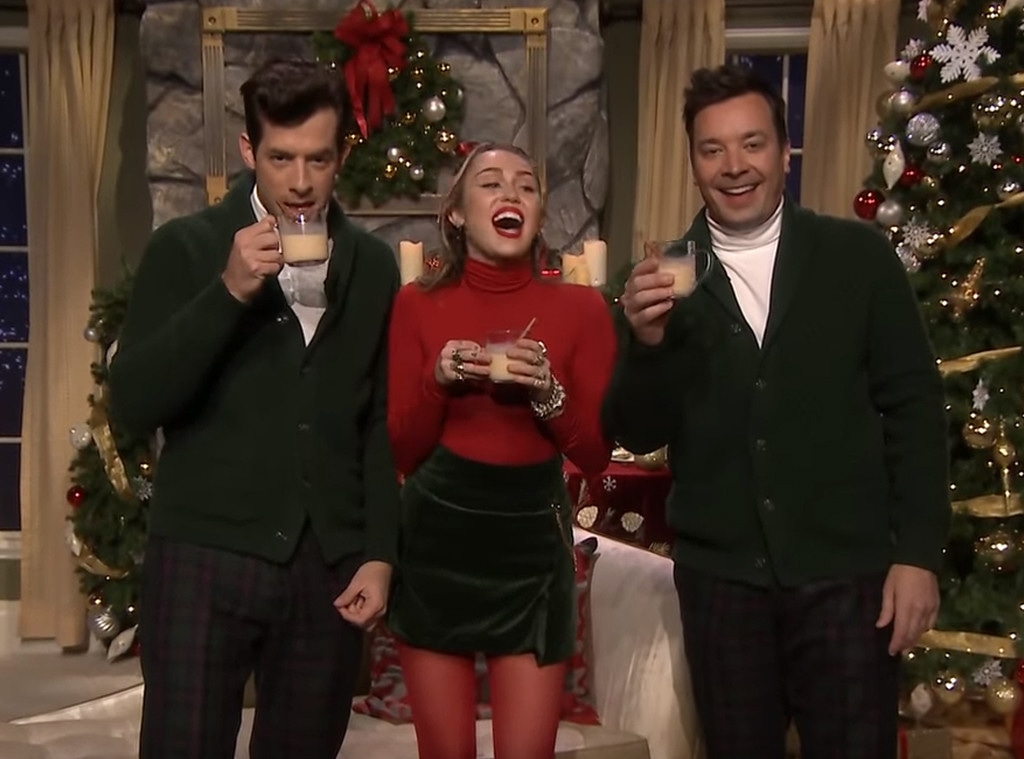 YouTube
Miley Cyrus is putting her own spin on the iconic tune "Santa Baby."
The singer stayed true to her ideals by changing up the lyrics to the outdated and slightly sexist song when she performed on The Tonight Show Starring Jimmy Fallon. Just before going onstage, she pointed out to host Jimmy Fallon that the song makes requests for yachts, cars and animal furs, which aren't necessarily the things Miley is wishing for. Not to mention the weird insinuation about possibly sleeping with Santa in exchange for gifts too? Then, there is also the small matter of Miley being a proud vegan. Honestly, the list goes on.
So, when she took to the stage to sing, Miley surprised Fallon by singing, "Santa Baby, I don't need any fancy jewelry / Not me / I've got something else in mind."
One of the most iconic lyrics Cyrus created was her declaration of independence. "I can buy my own damn stuff," the pop star effortlessly sings. 
At first, Fallon plays along with Cyrus' newly revamped rendition of the tune, but eventually he has to bring in the reinforcements: Mark Ronson.
Together, Jimmy and Mark dangled keys to designer cars in front of Miley, but she paid no mind to the boys, after all she bought her own car "all on her own". Instead she sings about gender equality—"a girl's best friend is equal pay"—and other issues women regularly face. 
For example, Miley sings, "Stop interrupting me when I talk and don't text me pictures of your—", however, she was cut off by Mark's phone before she could finish the lyric. Seems like we may never know what she was going to say.
Miley and Mark are currently in the midst of promoting their hit new songs "War Is Over" and "Nothing Breaks Like a Heart." Miley has been showing off her vocal talents during her many appearances on shows like The Tonight Show and the Howard Stern radio show. She has already covered Ariana Grande's "No Tears Left to Cry" and "Happy Xmas" with Yoko Ono. 
We can't wait to see what she has in store for her next cover!
E! and NBC are both members of the NBCUniversal family.