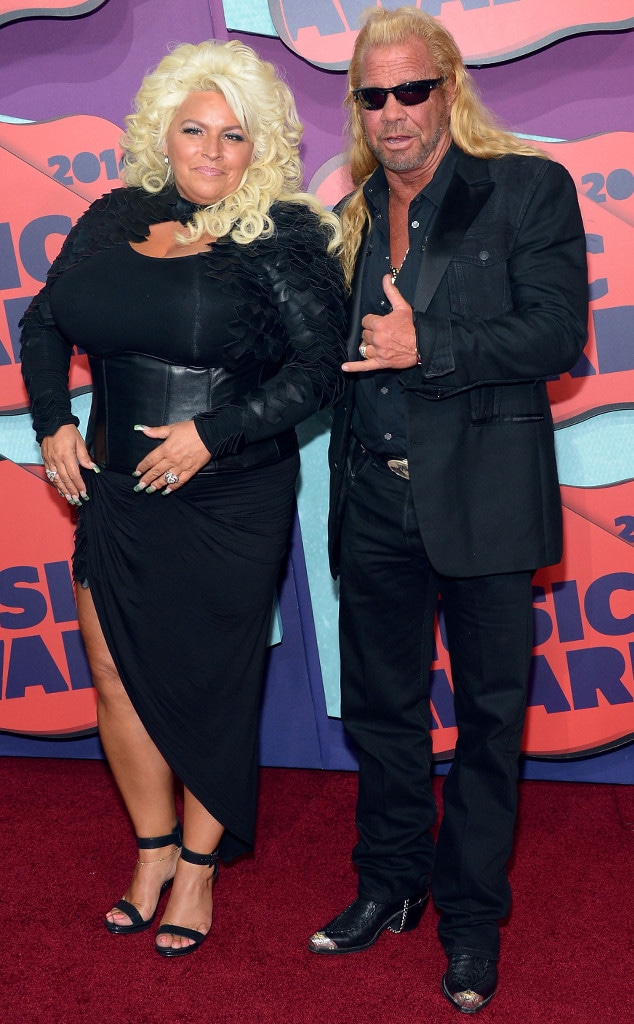 Michael Loccisano/Getty Images
Dog the Bounty Hunter and Beth Chapman are savoring every moment they have together.
The reality stars tell E! News that Beth is "preparing for the battle of her life." According to the Chapman family, the family matriarch was given "a 50/50 chance of the chemotherapy working" in healing her life-threatening throat cancer, which she was diagnosed with in Sept. 2017. So, Dog and Beth have decided to seek out "other treatments" in Boston, Houston and "possibly at MD Anderson." 
Despite the bleak diagnosis, the Chapmans say, "Beth is very strong, very healthy and very active." Since returning home after Beth's hospitalization on Nov. 27, the family is "trying very had to keep things as normal as possible for their children." 
Nonetheless, Beth, Dog and their kids share that they are "clinging to each other while they go through the search for a cure." 
While the pair tries to maintain some sense of normalcy in their household, they are revealing that Dog decided to return to "full time bounty hunting to try to help absorb some of the cost of his wife's medical bills."
Jason Merritt/Getty Images
In November, the family learned Beth's cancer returned, nearly a year after receiving a bill of good health. The family's attorney, Andrew Brettler, told E! News, "I can confirm that she was hospitalized today, had surgery to remove a mass in her throat, which was determined to be cancerous. I understand that the situation is very serious. We are all concerned for her and the well-being of her family."
Last year, when she was first diagnosed, Beth told fans in a heartfelt letter: "I will fight every step of the way. My husband and children are counting on me to be there for years to come. I am so very grateful to be surrounded by family and friends who have given me incredible support during this very challenging time."
We wish Beth a quick and full recovery.