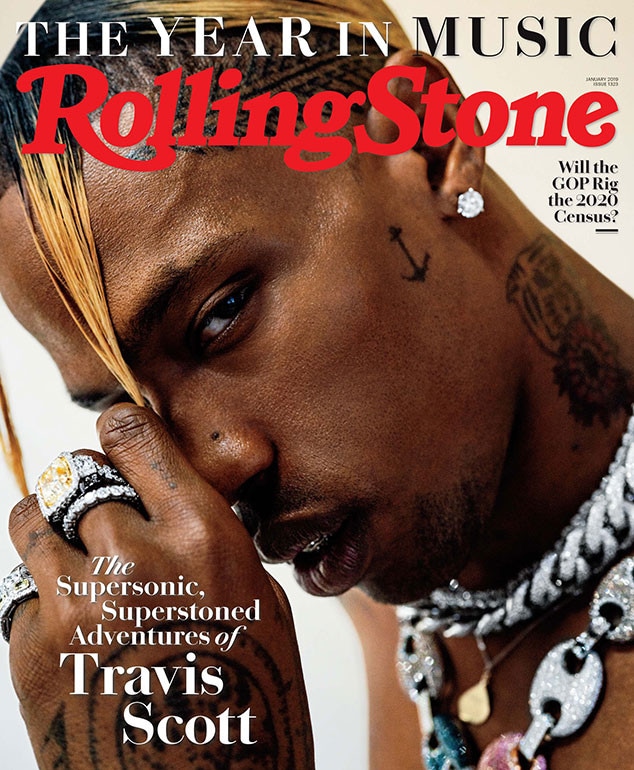 Dana Scruggs
Travis Scott says that having Stormi Webster was the "illest thing that ever happened to him." 
But before she was born, he wasn't too sure he was excited about being the father to a baby girl. "At first I was like, 'Man, I need a son'," Travis tells Rolling Stone in a new interview. "When we found out it was a girl, I was like, 'Huhhh.'"
It took him awhile to get used to the idea of having a girl, but he says that he came to realize, "Yo, this might be the illest thing that ever happened."
Stormi came into his world not long after and he was immediately wrapped around her little finger. "When Stormi was born, I was like, 'Life is fire, bro'," Scott shares. 
Now, nothing can separate him from his Stormi, who is said to be quite the daddy's girl. Even his busy schedule can't come between him and his "Stormi Saturdays" with Kylie Jenner. The 26-year-old reveals, "We don't let nothing come over Stormi time... We don't f--k around with those. Even with me on tour, Stormi pulls up."
The infant has truly become quite the jet-setter, following her dad around the country while he performs for his Astroworld. "She got more stamps on her passport than a lot of motherf--kers," Travis brags about his little one. 
She even seems to have great taste in music, just like her dad and mom. According to Travis, Stormi's favorite songs to jam out to include his song "Stargazing" and the popular "Baby Shark" song.
Aside from listening to music, she also has an interesting fascination in thermostats that tends to help pass time. Scott says, "She loves thermostats — you know those Nest things that spin? Oh, man."
However, since he isn't always able to be there with her because of work, FaceTime has become a large part of his routine. During the interview, Kylie and Stormi called the famous rapper for a quick chat, although Stormi mostly babbled incoherently. At one point, he tells the interviewer, "Look at that face."
She may be well-acquainted with phones, but Travis says he and Kylie have implemented a strict no-screens policy. "Today kids are on iPads. There's so much technology, they don't play outside anymore. That's what Astroworld Festival was about. N----s don't come outside," he tells the magazine. "That's why, with Stormi—no TV. That TV s--t is out."
Although, he doesn't seem to mind letting Stormi watch him perform from backstage. Travis shared a video of the baby dancing while watching her dad rap on the TV from her private dressing room not long ago.
Kylie once joked, "[Stormi and Travis] have this crazy connection and she's definitely a daddy's girl. It's cute to watch. When dad's around, [it's like] I'm not even there."